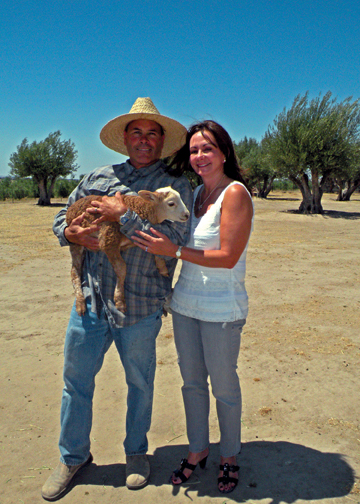 As you enter the drive at Olivas de Oro Olive Company there are olive trees as far as the eye can see. They are old, you can tell by their thick, gnarly trunks. You might think that they occurred naturally except for the fact that they are very evenly spaced from each other. In fact the trees tell a story of a fantastic journey.
Frank and Marti Menacho began Olivas de Oro Olive Company in 1999 when they bought an orchard near Oroville, California. The trees on the property were old growth olive trees and while they established their business in Northern California, they were looking for a property on the Central Coast. In 2007 they bought acreage in Creston and began the monumental task of uprooting 2000 of the 103 year old trees and moving them to the new location. Since then they have planted a 16-acre high-density Arbequina orchard and harvested them in 2010.
The new property in Creston already had buildings on it and one of these has become the tasting room, which is open on weekends for visitors to come and try out the variety of oils. Eleven selections are offered and these include flavored olive oils such as Meyer Lemon, Basil, Rosemary, Mandarin Orange, and Garlic. These are cold pressed by pressing the fresh ingredient along with the olives rather than adding extract afterward. They also offer olive oil soaps and an organic balsamic vinegar from Modena.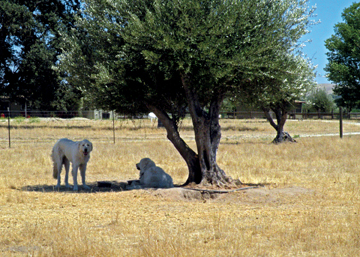 "We are 100% certified, organic since the beginning," Frank said, "and produce Extra Virgin olive oil. This is important because in the United States there are no labeling laws and any olive oil can be labeled extra virgin even if it isn't." Certification is performed by the USDA and the California Certified Organic Farmers. "We practice sustainable farming in order to preserve the eco-system," Frank said. "Pest control occurs with the encouragement of hawks and owls," he added, and there are owl nesting boxes and hawk perches throughout the property.
Frank is a member of the California Olive Oil Council and the Olive Oil Tasting Panel. This Panel meets every year in January to taste submitted oil samples and to certify that the oil is Extra Virgin. The Panel adheres to the standards set by the International Olive Oil Council in Spain.
"We have a club membership available where you get to adopt an olive tree," commented Marti. "The olive oil you receive will be made from your tree and the trees adjacent to it." The unique adoption gives a member an invitation to the annual harvest enabling them to pick a bucket of olives from their tree and make their own brined olives. Club members receive a new harvest shipment of Olio Nuevo, and a spring and fall shipment of two bottles each along with tasting notes and recipes. "In November we also hold a harvest party and the public is invited," Marti said.
Many people don't understand the differences in olive oils and their usages. "True extra virgin oil is less than 0.5% acidity, and contains no defects as far as smell and taste is concerned," Frank said. "Virgin oil ranges from 0.5% to 1%, and ordinary virgin from 1% to 2% acidity. After that there is oil that is lamp oil, and pumice oil, not meant for consumption."
Along with producing their own products, the Menachos will plant olive trees on other properties, assist with their production, and will also produce some private label olive oils from their crop, such as for wineries in the area.
The Menachos have a couple of side businesses that will pique your interest too. It isn't all olive trees and olive oil. Grazing on the property is a flock of Katahdin sheep that are utilized to keep the grasses down. Grass-fed lamb, processed by a USDA butcher, is for sale. The 60 or so sheep and lambs not only graze the grass but also nibble at the low growing branches of the trees affording the Menachos some natural pruning. The sheep are bred on the property and the stock is sold. This breed of sheep does not require shearing because they naturally rub their coats off. Frank has built a lean-to with some abrasive material wrapped around the enclosure that the sheep can use to scratch their hides. Two magnificent Great Pyrenees dogs share the pen space with the sheep for protection from predators.
Marti mentioned that when they bought the property there was a house there that a caretaker had been living in. They have since refurbished and redecorated it and use it as a vacation rental. "People that stay here really enjoy the solitude, and peace and quiet of the farm," she said. There are three bedrooms, a full kitchen and dining area, and a large living room. The Menachos added a sunken patio off the living room where folks can sit outside and be sheltered from the wind. Rentals can be for just one of the guest rooms or the whole house.
Whether you choose an afternoon of tasting,  gazing at the old-growth trees, or a weekend stay in the guest house, your time at Olivas de Oro is sure to be golden.
— Ruth Ann Angus
comments