Meridian Vineyards can resemble an oasis to its visitors.  With its long, tree-lined drive leading through the vineyards and tasting room surrounded by herb garden and manicured lawns, Meridian is designed to offer visitors a place to stop and enjoy themselves.
Winemaker Lee Miyamura says that besides the inviting grounds, the staff at Meridian contribute to this air of welcoming, describing them as "friendly, open, unique and inviting."  Tasting Room Supervisor Emily Shelby adds that everyone on their staff is genuinely interested in wine and people, and that they go out of their way to accommodate visitors' needs.
It is perhaps this focus on hospitality that has helped Meridian Vineyards to become known for not only its wine, but also as a place to host and attend events.  Weddings are frequently held at Meridian, and throughout the year the calendar of events is packed with brunches, dinners and holiday events.  Laurie Miller, Meridian's Special Events Supervisor, says that their Fourth of July event is an "awesome event" and is very popular each year.  They have live music and food on the lawns, and fireworks over their pond later in the evening.
The events at Meridian have become a draw for locals and visitors alike.  Many tasting room visitors were introduced to Meridian wines at an event and later visit the tasting room to further explore Meridian's wines.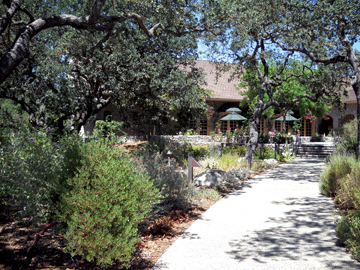 Meridian produces six core wines, which are nationally distributed: Cabernet Sauvignon, Pinot Noir, Pinot Grigio, Merlot, Sauvignon Blanc and Chardonnay.  Lee says that they are most known for their Chardonnay.  Besides these six wines they produce smaller lots of limited release wines, which are available to visitors of the Meridian tasting room.  These wines include Cabernet Sauvignon, Merlot, Syrah, Zinfandel, Grenache, Sangiovese and Barbera from the vineyards on the Meridian estate.
Meridian also offers chocolate and cheese pairings with their wines.  This is part of what Laurie means when she says, "It is the Meridian experience that makes us stand out."  Guests are encouraged to call ahead if they have special requests, and the tasting room staff will do their best to help.  Guests can bring a picnic lunch to have on the grounds, or the Meridian staff can have a one waiting for them when they finish their wine tasting.  Lee says, "We can accommodate a busload or a carload."
Lee, who has been with Meridian for over 20 years and has been head Winemaker since 2006, says that is has been fun to watch Paso Robles develop in over the years, and says, "It is just amazing how the industry itself has grown."  She remembers one of the first Wine Festivals in the Paso Robles Downtown Park and says that it was easy to count the number of booths.  Now, she says of the Paso Robles wine industry, "We have come into our own."
This could also be said of Meridian Vineyards.  Laurie, listing the annual events hosted by Meridian each year, says, "There's always something going on."  She describes Meridian's charm as "rustic elegance, relaxed and lovely."  Visitors to Meridian Vineyards are offered a chance to experience this charm for themselves, along with a glass of Meridian wine.
Visit Meridian Vineyards at their tasting room at 7000 Highway 46 East, from 10am – 5pm daily.  Call or visit their website for more details, (805) 226-7133 and www.meridianvineyards.com.
— Kate Joyce
comments