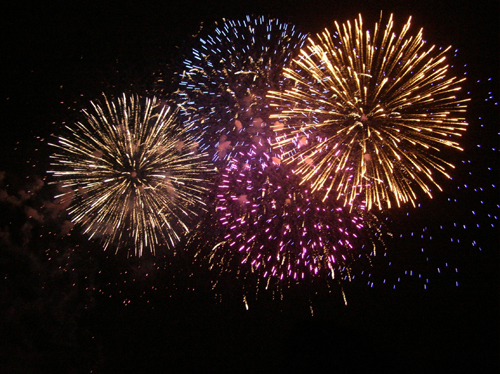 Activities in 2014 celebrates city's Quasquicentennial
The year-long celebration of Paso Robles' 125th Anniversary kicked off on New Year's Eve with a gala fundraising dinner and fireworks over the Downtown City Park thanks to the efforts of a dedicated group of volunteers including organizing event co-chairs Dee Lacey and Frank Mecham.
Lacey and Mecham, along with the 125th Anniversary planning committee, have been diligently working to provide members of this hard-working community with some fun, free events to celebrate and honor Paso Robles' rich history. The committee is putting on a handful of "official" events to help the community celebrate the 125th Anniversary while giving back to local historical organizations through fundraising and sponsorships. Excess proceeds from fundraising efforts will be donated to the Pioneer Museum, Paso Robles Historical Society and Pioneer Day.
Businesses sponsor celebration
Several local community-minded businesses have stepped up to sponsor this worthy cause including Heritage Oaks Bank and IQMS – both have come on board as Presenting Sponsors and have donated $20,000 to the launch of the Anniversary celebration.
"Heritage Oaks Bank is very excited to be the co-presenting sponsor of the Paso Robles 125th Anniversary Celebration," states Heritage Oaks Bank President and CEO, Simone Lagomarsino. "Since the Bank's founding in Paso Robles 30 years ago, our many local employees, customers and shareholders have been proud to be part of this thriving community. Paso Robles has been a gracious and enthusiastic supporter of the Bank's annual Family Fun Day and Fun Run for 15 years and we are so happy to be able to now assist the community with this exciting anniversary celebration. We encourage everyone to take advantage of all of the fun activities planned and the educational opportunities that will be provided to learn more about our charming area and local heritage."
Randy Flamm, president at IQMS, says, "Reaching 125 years is a momentous milestone and as we head into 2014, IQMS is proud to be a part of this upcoming celebration. When we settled our company here in 1993, we felt extremely welcomed by this special city, and our relationship of encouragement and support has only grown stronger as the years have progressed." He continues, saying, "Over the past 20 years, we have seen extended growth across our unique town and it is great to see just how far Paso Robles has come. As a global software company, IQMS could have set down roots anywhere, but we are very happy to call this area our anniversary into their own event themes for the year.
Also helping to kick off the 2014 Quasquicentennial celebration are three local beverage companies – their specially made wine, soda and beer will be served at fundraising events and will also be available for sale to the general public. Hope Family Wines has been farming in Paso Robles for over 30 years and is devising two "Paso Blends" – a red and a white – specifically for the occasion. Firestone Walker Brewery is donating a large supply of their local favorite 805 ale, a beer that is sold only in the 805 area code – perfect to help celebrate Paso's 125th year. Pithy Little Soda Works (the artisanal soda operation of Pithy Little Wine Co.) crafted an exclusive "throwback" non-alcoholic soda with a bottle featuring a commemorative soda label with a 125th theme – it was unveiled at the fireworks celebration on New Year's Eve.
Vision for the Paso Robles Quasquicentennial
The vision for the Paso Robles 125th Anniversary is to unite Paso Roblans in a year-long celebration of our history as a community and to captivate citizens and tourists alike with fascinating accounts of our past. Any proceeds left from the fundraising efforts of the 125th Anniversary will go to the Paso Robles Historical Society, the Pioneer Museum and Pioneer Day, so they may continue in their missions of preserving, honoring and celebrating the history of Paso Robles. For more information, call (805) 227-7236.
In addition to the Paso Robles 125th Anniversary Gala Fundraising Dinner  and the  New Year's Eve Glow in the Park  & Fireworks that took place on New Year's Eve, a sampling of events celebrating the Paso Robles 125th Anniversary is listed below. For more information on the history of Paso Robles and to view events added to the calendar throughout 2014, go to www.prcity.com/125. Visit the site to view a full list of sponsors; purchase a cookbook featuring recipes from local pioneer families and chefs, historical calendar and other merchandise and to for information on sponsorship or volunteer opportunities.
March 11, 2014 – Happy Birthday Paso Robles!  On this date in 1889, 125 years ago, Paso Robles became a city. Mark this momentous occasion with community leaders, elected officials, friends and neighbors. There will be fun, refreshments and a marching band at the Downtown City Park. Free admission.
125 oak trees – The City of Paso Robles intends to utilize its Oak Tree Replacement Fund to plant 125 oak trees in 2014, recruiting the assistance of community volunteers and pro bono consultation from Althouse and Meade Biological and Environmental Services.
December 31, 2014 – The 2014 New Year's Eve Fireworks Finale The grand finale of the 125th Anniversary of Paso Robles will take place in the Downtown City Park and all are invited. Enjoy entertainment and fireworks in honor of the community leaders, community members, volunteers and sponsors that made the year-long celebration possible; fireworks at midnight, this is a ticketed event.
— Meagan Friberg
comments