Come visit Paso Robles
PASO ROBLES TRAVEL GUIDE – Paso Robles is bursting at the seams with attractions for tourists. Wine tasting, fine dining, shopping, visiting the lakes, seeing local Missions and visiting museums top the list of things to do in and around Paso Robles.
Paso Robles Wine Tasting
The biggest attraction for tourists is the local wine country. There are more than 180 wineries in North County, many with tasting rooms open for your enjoyment all week long. This area is the fastest growing American Viticultural Area in California with 26,000 acres planted. It has one of the longer and most consistent growing seasons for wine grapes in California.
Antique Shops
Vineyard Antiques – Underpriced treasures is our reputation in our 10,000 sq.ft. antique mall. Antique furniture from primitive to elegant. Old tools, glassware, pottery, artifacts, toys, wine accessories, jewelry and more. Garden art in our 2,000 sq.ft. patio. Mon-Sat 10 am-5 pm, Sun 11am-5 pm. 2320 Ramada Dr., Ste. A, (805) 237-4012.
Attractions
Studios on the Park – If art is what you're looking for,  Studios on the Park is sure to please. A nonprofit open studios art center in the heart of downtown at 1130 Pine Street. The center has nine studios with 24 working artists in a variety of media. Make art a part of your life by witnessing the creative process in action, enrolling in a class or workshop or viewing quality themed exhibitions.
Mission San Antonio de Padua – Third in the chain of California's 21 missions San Antonio offers the perfect experience of stepping back into the past for those interested early-California and Native American cultures. Available for both private and group retreats. Please call ahead for reservations. End of Mission Road, Jolon, CA, (831) 385-4478.
Redwings Horse Sanctuary – This sanctuary rescues horses that have been abandoned, neglected or abused.  Their mission is to eliminate the causes of equine suffering through education and community outreach programs.  Located at 47240 Lockwood-Jolon Rd., Lockwood, CA 93932 the sanctuary is open for visitors from Tuesday-Saturday, 10 am- 3 pm.  (831) 386-0135.
Beer
Paso Robles Brewing Company – With 21 taps offering beer brewed on-site as well as from around the U.S., Paso Brewing is the place for the local ex-beer-ience! Live music and gourmet food available from local caterers most nights. 525 Pine St., Paso Robles, CA 93446. pasobrewing.com, (805) 239-1000.
Pine Street Saloon – Chances are outlaws like Jesse James huddled within these walls. The saloon is one of the oldest and most unique false-front buildings in the area. Enjoy your visit to this historic saloon and raise your glasses to the spirit of Jesse James. 1234 Pine St., Paso Robles, CA 93446 (805) 238-1114.
Dining
There are so many great places to eat out in Paso Robles, we made an entire page of recommendations. Check out our extensive list of cafes, bistros, restaurants and fine dining establishments here: Best places to eat in Paso Robles.
Golf Courses
Paso Robles Golf Club – This 18-hole championship golf course is the hidden gem of SLO County. Relax in the restaurant, bar or veranda after your round of golf. Sharpen your game with a golf lesson from one of our PGA Professionals and enjoy our expansive practice facilities.1600 Country Club Dr., pasoroblesgolfclub.com, (805) 238-4722.
River Oaks Golf Course – A unique "6-Hole Player Development" course offering 3 sets of tees. Perfect for advanced, intermediate, beginners, juniors, seniors and women golfers. River Oaks Golf Course is ideal for golfers looking for a quick round. 700 Clubhouse Dr., (805) 226-8099.
Hot Springs Spa
River Oaks Hot Springs Spa – Done wine tasting? Take an hour and come relax in the historic natural mineral springs. Private indoor and outdoor tubs start at $12/hour. Full service spa offering therapeutic massage and facial treatments. riveroakshotsprings.com, 800 Clubhouse Dr. (805) 238-4600.
Museums
Pioneer Museum – The Pioneer Museum is fun for all ages! Get a glimpse of what local life was like in the "Good Old Days." View Paderewski memorabilia, vintage farm equipment, pioneer artifacts, a one-room schoolhouse and much more. 2010 Riverside Ave. Open Thursday-Sunday 1pm-4pm, Free Admission, pasoroblespioneermuseum.org, (805) 239-4556.
RV Resorts
Vines RV Resort – Nestled in the fabulous wine country of Central Coast California,  premier luxury RV resort sought out by the serious RV travelers.This is the best choice for scenic beauty and luxury accommodations. 88 Wellsona Rd., vinesrvresort.com, (855) 467-2100.
Wine Country RV Resort – Whether you are looking for relaxation, exciting activities or a romantic setting, we've got it all! As a family-owned and operated business we're dedicated to making your stay a most enjoyable one. 2500 Airport Rd., winecountryrvresort.com, (805) 238-4560.
Salons & Spas 
Serenity Spa at Kennedy Club Adenture – Offering a unique blend of services that make it a wellness spa. Pilates, skin care, natural air-brush spray tanning, massage, functional medicine chiroprator, orthopedic/manual therapy. 500 S. River Rd., serenityspaatkennedyadventure.com, (805) 226-4800.
Twist Studio Spa – A full service salon and elite spa in the heart of downtown, twist studiospa offers everything you need to feel pretty and pampered in a warm and luxurious setting. Our goal is always to offer an impeccable, fun environment with a talented team of educated professionals.1421 Spring St., twistway.com, (805) 239-3222
Shopping
Country Farm & Craft Market – Local farm fresh produce, quality crafters, food vendors and fresh eggs in season.  Saturday, 9am-1 pm, at the downtown park in Paso Robles.
EarthTones Gifts, Gallery & Massage – Explore Conscious Living with one-of-a-kind gifts and jewelry. Nourish mind and body with aromatherapy, incense and candles. We carry fair trade and artisan handicrafts that are inspired by nature. Focus on tranquility with crystals, books and statuary. 1319 Park St. For events visit: earthtonesgifts.com. (805) 238-4413.
General Store Paso Robles – Grab a gourmet picnic or gifts to take back home at General Store Paso Robles, with provisions for picnic, pantry and home. Tasteful fun foods & local goodies. Open daily 10am-7pm, 841 12th St., generalstorepr.com
Jardine Ranch Country Nut Store – Rustic outside with yummy local products inside!  Lots of tasty treats to choose from.  Many varieties and flavors of nuts, dried fruits, sweets, and local honey. Open daily 8:30-6 and they ship.  (805) 238-2365.
Naughty But Nice – Flirt with style! Featuring lingerie, shoes, books, sleepwear, club wear, lotions & potions and so much more! One-stop love boutique for women and couples. Open Sun-Thur 10 am – 10 pm, Fri -Sat 10 am – 11 pm. 1319 Spring St., nbnstores.com, (805) 238-2787.
Rocky Mountain Chocolate  – An experience providing visitors with hundreds of chocolate treats, just as unique as the store. Located in downtown Paso Robles right next door to the movie theatre. 1106 Pine St.,  (805) 226-7598.
Siegel's Jewelry – Explore Paso's largest jeweler and pawnbroker. Designer and one-of-a-kind estate jewelry, watches, collectibles, coins and handbags at huge savings.  739 12th St., (805) 239-4367.
The Sole Tree – The Sole Tree boasts what could be called the "anti-department store" vibe With a low-pressure atmosphere, surround yourself with gorgeous leather shoes, lots of gab and even fresh coffee and cupcakes from Two Birds Bakery. 835 12th St., Ste. B, thesoletree.com. (805) 238-SOLE
Tours
Paso Robles taxi service – If you are looking for quick transportation around town, check out this list of Paso Robles taxi service companies that can help.
Epic Limousine Service – Your local limousine expert. They specialize in wine tours but also provide services for weddings, bachelor/ette parties, birthdays, or any special occasion. Or try the Personal Driver Service and hire a friendly, knowledgable chauffeur that drives your own personal vehicle around. PasoRoblesLimoTours.com  (805) 423-6838
Revel Rides Limousines – Revel Rides will provide the environment that best suits your mood or event while you leave the driving up to one of their courteous chauffeurs. Many options to choose from and competitive pricing. Serving all of SLO county revelrides.com (805) 591-9190
Uncorked Wine Tours – Private, personalized, and customizable wine tours. They specialize in birthdays, anniversaries, weddings, family reunions, and any day you want to make special. Call  today to book your tour! uncorkedwinetours.net, (805) 459-4500.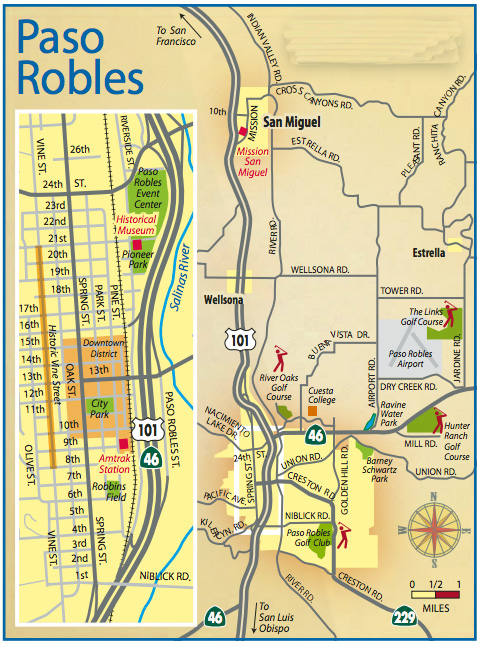 Wedding Services 
Music Makers DJ Service –  Spinning the most up to date music for your wedding. For many years they have been providing San Luis Obispo DJ services for weddings and many other events. Music Makers DJ Service also offers services for wedding planning in San Luis Obispo.
Local Paso Robles Newspaper
comments