Family winery shares exclusive Italian varietal wines with guests of Paso Robles
Find all the comforts of home, delicious Italian varietal wines and a peek into the world of estate wines at Pelletiere Estate Vineyard & Winery in the foothills of West Paso Robles. Estate owner, Janis Pelletiere, brings deep traditions from her Chicago Italian family to the vineyards and winery, which she named after her family name. The Pelletiere Estate reflects Janis' love of wellness, celebrates her commitment to family tradition, and cultivates her entrepreneurial spirit.
The Willow Creek District, home to Pelletiere winery, is known for producing ultra-premium wines from a rich limestone soil that is perfect for creating excellent quality vino. Pelletiere Estate has the small intimate charm you would expect from a Central Coast boutique winery, and sits on 16 acres of beautiful Paso Robles countryside The estate has 12 acres of planted with their seven rare Italian varietals. Pelletiere is a sustainable winery known for a commitment to quality and service.
Guests to Pelletiere can enjoy their stay even more, because this vineyard, it's chic tasting room, and comfortable lodgings are located in the quiet countryside, away from stress, city life and traffic. Experiencing the good energy that flows freely from the land and the friendly people who call this area home, are just a few of the attractions to Pelletiere.
The wine, which sells out year after year, is only available to visitors to the winery and to wine club members. The quality of wine produced here is a reflection of the respect for the land shared by Janis and her team. The winery focuses its energy on producing some of the tastiest wines including: Sangiovese, Nebbiolo, Montepulciano, Lagrein, and Primitivo, Syrah, and Viognier.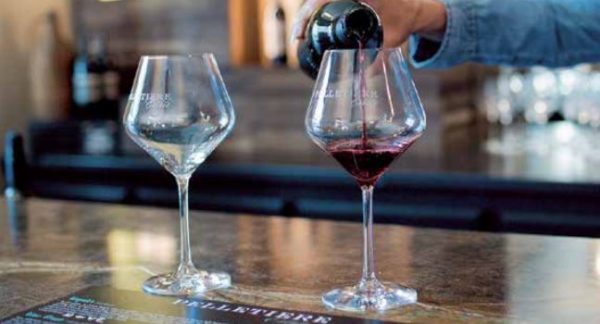 "Our focus is on the vineyard because we believe that the best wine is made in the vineyard and maintained in the cellar," said Janis. The talented Pelletiere team is dedicated to the very best vineyard care, picking and hand selecting the perfect grapes at optimum ripeness to produce the winery's hard-to-find Italian wines. They are proud to be creating around 1300 cases a year of these elegant varietals just for the love of the wine.
If you are thinking of escaping to Paso Robles wine country any time soon, keep in mind that Pelletiere Estate is also home to a historic three bedroom, two bath restored 1890 farmhouse and the Eastwood Casita, named for its larger-than-life Eastwood mural.
Soak up the historic atmosphere of the farmhouse and the combination mid-century/millennial modern flair of the Eastwood Casita while enjoying all the modern amenities of WiFi, satellite TV, gas BBQ, fully equipped kitchens, elegant bathrooms, plush robes, towels, and luxurious linens along with great views and some charming surprises.
Open by reservation, the Pelletiere Estate is located at 3280 Township Road, Paso Robles. For wine tasting and lodging reservations, or more information visit pelletiere.com or call (805) 239-9432.
comments