Many of us have consciously chosen to adopt an animal from the local humane society in order to offer a beloved new pet a much-needed home. What happens to larger animals desperately needing a secure place to live, largely due to prior abuse, neglect or abandonment?
Located in Lockwood, Redwings Horse Sanctuary is a safe haven for those gentle giants that don't have a forever home. Horses are much harder to place than dogs and cats because of the space needed to keep them and the cost involved in feeding and caring for them. They offer permanent sanctuary for those equines that are "unadoptable" because of age, illness, or injury.
The mission of Redwings Horse Sanctuary is to eliminate the causes of equine suffering through education and community outreach programs, to rescue abused and neglected equines, and to provide permanent sanctuary or selected foster homes for those equines.
"Those who wish to adopt one of our equines will go through a one year fostering program complete with initial and quarterly facility inspections. If the foster goes well for the horse and caregiver, the caregiver can then choose to adopt (and become the owner of the horse) or continue to foster (Redwings retains ownership of the horse)," explains executive director Paula Germain who previously sat on the board and acted as the equine care supervisor, as well as having an extensive educational background. Redwings Horse Sanctuary's primary goal in overseeing the foster process is to ensure that each horse and caregiver is doing well together. We have had 16 successful fosters and two adoptions in the last couple of years," she adds.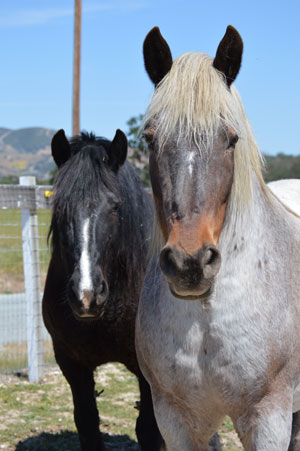 The organization has initiated numerous programs including an equine education program for new horse enthusiasts, and an emergency medical assistance program called "Helping Hooves." Recently they were offered the opportunity to work with a brand new program called the "Nature Connect Program" out of Salinas. Designed to help at-risk middle school students, the horses help those students find a new outlet for their energy, creativity and an added inspiration for learning.
Community wise, they currently offer numerous public events including the recent Annual Blessing of the Animals. Generally conducted in remembrance of St. Francis of Assisi's love for all creatures, this nondenominational event is just one of the many ways Redwings and their dedicated team supports the health and well being of animals and their overall importance in our lives. They also participate in the Paso Robles Pioneer Day Parade.
"One of our primary goals is to move into the Paso Robles area where we can gain more exposure, better serve the community, host better attended fundraising events and recruit a greater number of much-needed volunteers," explains Paula Germain. "We are funded 100 percent by donations including grants and being named in people's estates. We're pretty far out here and currently we're focusing on revamping our marketing plan to ensure more exposure."
Redwings horse sanctuary is located at 47240 Lockwood-Jolon Rd, Lockwood. For more information call (831) 386-0135 or visit redwingshorsesanctuary.org.
– Leslie Jones
comments