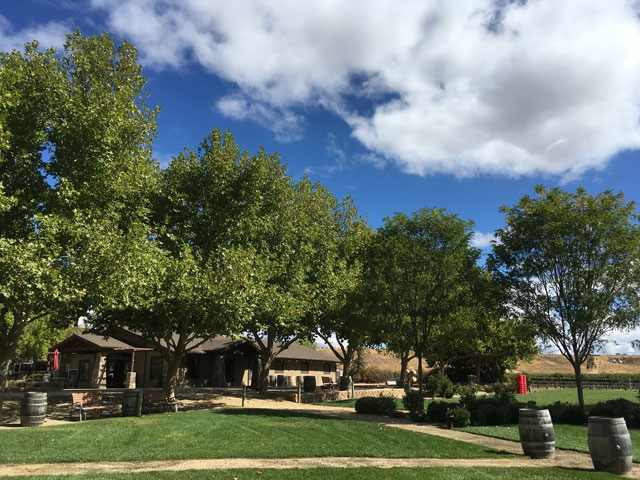 Riverstar Vineyards has been a fixture on the Pleasant Valley Wine Trail since 2001. The vineyards first planted with Cabernet Sauvignon, Syrah and Merlot in 1993, have grown to include Sauvignon Blanc, Zinfandel, grown from their own root, and Petite Sirah, which was grafted onto some of the Syrah.
Always family owned and operated, the Reinertson family has been continuing the Riverstar Vineyard traditions since 2016. Working with winemaker Steve Martell, the Riverstar team is carrying the big, bold and beautifully crafted wines forward through today and into the future.
Fifty-eight planted acres produce delicious estate wines, all available from the tasting room and the Riverstar Stargazers Wine Club.
The wine is a big taste of what the entire 80-acre property has to offer. Events, picnics, family gatherings and a vacation rental round out the tasting room experience. Bring a picnic lunch to the tasting room patio or in other inviting locations on the property. Paired with a favorite (or a recommended) Riverstar wine, a relaxing and enjoyable time is pretty hard to avoid.
The winery hosts a variety of events throughout the year and this summer is packed full of wine tasting events, concerts, winemakers dinner and more. Check the event page on the website for details about upcoming events.
Come for the wine and stay awhile. "The Ranch" vacation rental is tucked away in the gently rolling hills of the vineyard property and surrounded by trees, roses, lavender and rosemary shrubs, a small orchard and the 58 acres of grapevines. View the amazing sunsets from the wrap-around deck of this three-bedroom, two-bath home-away-from-home. Cook your own meals in the kitchen or on the barbecue, or drive a short 15 minutes or so to any of the excellent restaurants in the area. Enjoy morning coffee while strolling around the land, listening to birds and observing the wildlife of the area.
Riverstar Vineyards is family- and dog-friendly and is located at 7450 Estrella Road, San Miguel, CA. The tasting room is open Thursday through Monday 11 a.m.-5 p.m. For more information about the wine, events, or the vacation rental call (805) 467-0086 or visit riverstarvineyards.com.
comments