Celebrating a decade in business, artistic San Luis Obispo concrete design company, StoneTech, specializes in concrete restoration and resurfacing, stained and stamped concrete, and epoxy flooring systems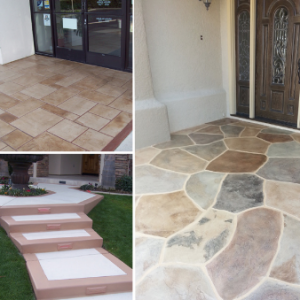 StoneTech, a San Luis Obispo concrete contractor and design company specializing in transforming concrete into decorative works of art, is celebrating its 10th anniversary this year. Owner, Bo Schmidt, has led the company's evolution from its humble beginnings as a single person start-up to a thriving half-million dollar a year company with multiple crews.
"2012 was our biggest year yet," said Schmidt. "I continue to work with my original crew members and have never had to lay anyone off, even during the recession."
Schmidt originally looked into the business of decorative concrete at the suggestion of his Sunday school teacher. "He knew that I was an artist and thought it would be a good fit," he said. "I really enjoyed the craftsmanship and skill involved in creating something artistic from plain concrete, and it just took off from there."
Schmidt's first large account was the Holiday Inn Express in Buellton, where he created decorative concrete floors. As the business grew, he added Marriot and Best Western to his list of clients.
The additional accounts allowed Schmidt to employ permanent crewmembers and expand his business to include deck waterproofing and the installation of flooring systems. "We install 100% solids epoxy flooring systems," said Schmidt. "These extremely durable floors work especially well in garages and commercial kitchens."
StoneTech has installed the epoxy flooring system in the new Far West Restaurant in Orcutt and Matties's Tavern in Los Olivos.
Although its completed many commercial projects, StoneTech's customer base is largely residential. Whether it's a patio, driveway, walkway or pool deck, "We take the existing concrete and we decorate it," said Schmidt. The company also works with new concrete construction projects.
Initially, a StoneTech design consultant works with each client to select the preferred concrete pattern and color. Then comes any necessary prep work, which includes covering nearby surfaces, power washing the concrete, and repairing and sealing any existing cracks.
Once the concrete is clean and sealed, a layer of acrylic concrete coating is spread over the surface as a basecoat before applying the grout color. The selected pattern, which can range from cobblestone to flagstone, is then installed as a stencil design before two layers of acrylic modified cement overlay is applied. Each stone is then hand stained.
The stencil is then removed, revealing the grout underneath. An application of lacquer base sealant is applied to complete the project.
Customers can choose from over 15 pre-designed patterns and colors, or a custom stencil design can be created. "Flagstone is our most popular pattern because we can incorporate any existing cracks into the design," said Schmidt. "Plus, it's cost-effective; we come in at about a quarter of the costs of real flagstone."
StoneTech prides itself on high quality workmanship, cost effective projects, great customer service and clean job sites. Areas served include Monterey, Fresno, Visalia, Bakersfield, Los Angeles and everywhere in between.
"I consider StoneTech to be a Central Coast based company that travels," remarked Schmidt. His future plans for the company include adding satellite offices to better serve his expansive customer base.
For more information about StoneTech's services visit stonetech2000.com or call (805) 710-3763.
StoneTech
9520 Curbaril Ave
Atascadero, CA 93422
(805) 710-3763
Services offered by StoneTech
comments