Enjoy the traditional or taste a stylish, colorful drink you've never heard of
—Coffee and matcha enthusiasts have a special place at the alluring Kin Coffee Bar. From freshly baked offerings to their alternatively brewed coffees and ceremonial matcha drinks, Kin is the perfect place for a satisfying pause and unique experience.
Their unique preparation of siphon-brewed coffee allows for better extraction of the deeply flavorful aroma, oils and nutrients. Siphon brewing was first used in Germany during the 1840s. The process uses two chambers and a metal or cloth filter.
Kin's front entrance features outside seating and a Ouija planchette on the window hinting at a mysterious energy inside. The airy and spacious interior is adorned with nostalgic touches of exposed brick, vintage furniture, art, live plants, and antique looking brewing equipment.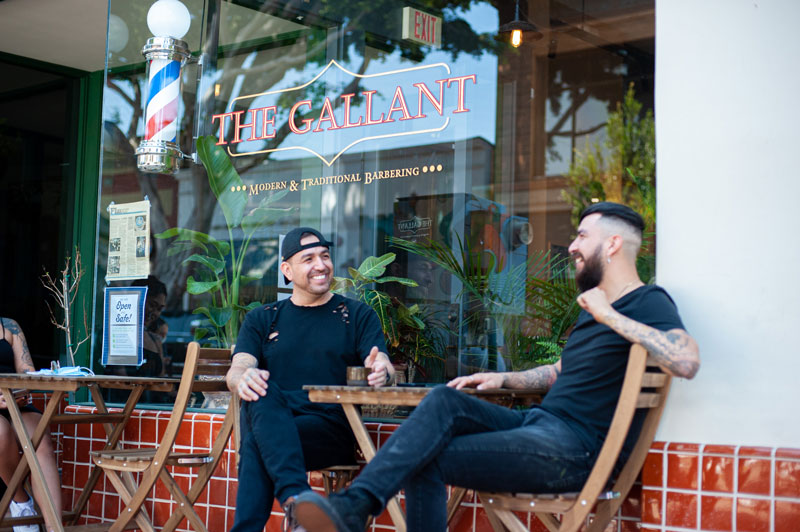 The Kin offers the usual cafe drinks like Americanos, macchiatos, mochas, cortados, drip coffee, cappuccinos, lattes, matcha, Kyoto cold brew, chai, superfood lattes and much more. Taste a stylish, colorful drink you've never heard of or sip on something familiar. Grab a bite to eat. The freshly baked treats are made daily by the owner's mother and are so amazing that they sell out quickly.
Kin is the place to spark connections and enjoy the kind and welcoming culture of San Luis Obispo. Savor a satisfying departure from the usual coffee joint, and indulge in their creamy and full-bodied drinks. High quality beans come from Cacti Coffee Roasters in Santa Margarita, who seek out only the best fair trade products. Organic ceremonial matcha is bought directly from a Japanese grower every two weeks.
Running a coffee house is more than just drinks and ingredients. Co-owner Juilan Contreras listens to friends, family, employees and the community to build a gathering place for connecting and sharing ideas. A small group of tight-knit baristas operate the coffee bar alongside brothers Julian and Christian Contreras (who runs the barbershop next door.) The brothers, proud of their Mexican Roma Gypsy ancestry, grew up in San Luis Obispo. Kin, the café name, is their mother's description for the tight-knit bond the family shares.
"I didn't realize how big of an impact we would make," said Contreras. "It's become apparent how important it is to be a place of solace and recognized for who we are. We want nothing but love and acceptance, making sure that in a time with struggling businesses, people should come together. The support means a lot. With the coronavirus, we thought we were going to lose the business, but it's been life changing having so many amazing customers during this time."
Drop in for a favorite beverage in the outdoor seating. Keep in touch to be first in line for the return of open mic, poetry and music that filled the café when it first opened in 2019.
Kin Coffee Bar is located at 847 Higuera St. in San Luis Obispo. For hours and more info please call (805) 439-4136, or visit them on Facebook.
—Cassandra Frey
comments