Owners Joanne and Ross Currie recognized during California Small Business Day
– Splash Cafe has been named the "Small Business of the Year" by State Senator William Monning, Senate Majority Leader, of the 17th District. Joanne and Ross Currie, owners of the cafe for 25 years, were recognized at the 2016 CA Small Business Day on Wednesday, May 25th in Sacramento. Splash Cafe is one of 80 businesses to be honored out of the 3.3 million small businesses in California. District 17 encompasses all of San Luis Obispo and Santa Cruz Counties and reaches upward to the City of San Jose, Watsonville, Morgan Hill, Scotts Valley, Gilroy, Coastal Monterey and southeast along State Highway 166.
In 1991, Joanne and Ross Currie purchased Splash Cafe in Pismo Beach just before the Clam Festival in October. That incredibly busy beginning was just the start of a 25-year journey that has seen the Curries improve the clam chowder recipe that is now award-winning and world famous, expand to two locations in San Luis Obispo, ship the chowder nationally, distribute in Costco stores and two other restaurants and start a thriving gourmet catering division.
"This honor is all a wonderful testament to our great customers and loyal employees," says Joanne Currie. "We just want to thank them for their loyalty, for spreading the word about our chowder and coming to the restaurants these past 25 years."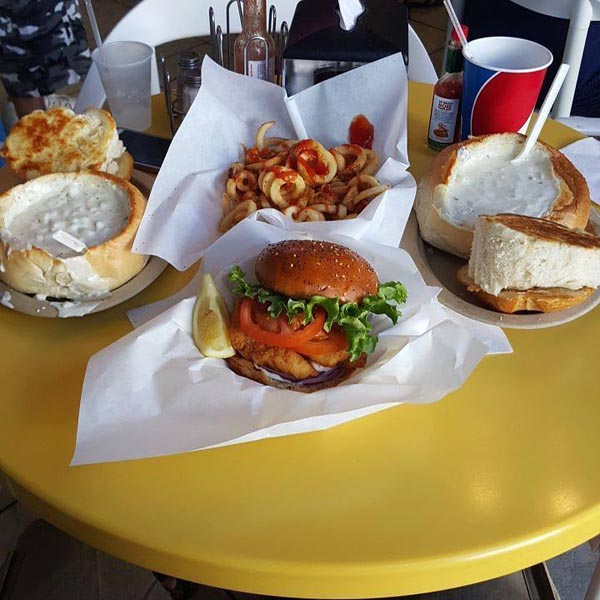 Splash customer loyalty has seen chowder sales grow from 5000 gallons a year in 1991 to 40,000 gallons a year today between the three restaurants. When the Curries purchased Splash in 1991, they immediate began work on improving the chowder recipe. Both serious food lovers, they wanted to make the chowder the best anyone could find. Over the past 25 years, their chowder recipe has won numerous awards, received accolades from many regional and national publications and seen customers travel hours just to have a chowder filled bread bowl.
Splash Cafe's expansion and growth has been steady throughout the 25 years. The cafe started selling chowder online in 1998 and now packages and ships more than 1,500 boxes per year. The Curries opened the San Luis Obispo location on Monterey Street in 2005 with a full-service bakery and an expanded menu. In 2007, the Curries packaged their chowder for Costco, first locally and then expanded to stores in Southern California and the Central Valley. In 2010, Splash began offering gourmet catering and now provides a full breakfast, lunch and dinner menus for business meetings, weddings, anniversaries, parties and any other special occasion. The Curries opened the second San Luis Obispo location in 2013, near Downtown Cinemas.
While clam chowder is Splash's signature dish, all three restaurants have a varied menu serving breakfast, lunch and dinner. Customers can enjoy egg dishes and pastries in the morning or enjoy steamers, salads, hamburgers and fries, fish tacos, seafood specialties, sandwiches and even hot dogs.
comments