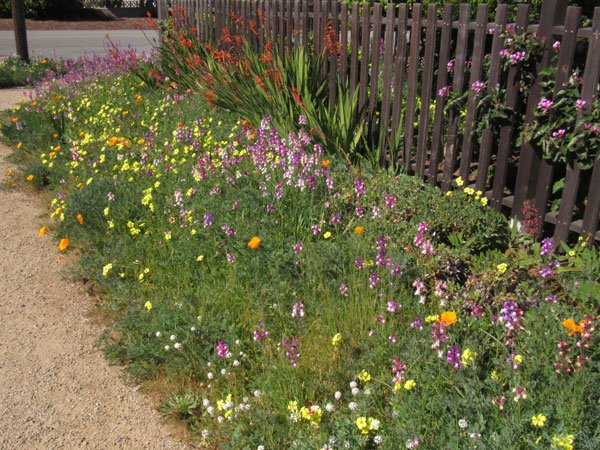 Visitors to the town by the rock spend plenty of time on the Embarcadero enjoying being right by the water but spending all their time there has them missing the full charm and essence of the town.
Wildflowers and "Bloomies"
Springtime in Morro Bay means two things, it will be windy and there will be flowers. Wildflowers sprout up in yards around town whether the people living there want them to or not and they offer a colorful spread of a mix of blooms without anyone needing to plant them. A nice walk on the quiet streets south of Morro Bay Boulevard can show visitors the town in a way that driving through cannot. Some of the flowers you might see are California poppies, fairy light lupines, white alyssum, and the ubiquitous and sometimes reviled yellow oxalis. Blend these wildflowers in with cultured blooms planted in yards and you will enjoy a great flower walk.
Morro Bay in Bloom has a group of volunteers called "Bloomies" that cultivate and plant flowers and a variety of succulents in spots all over downtown. Stop by the garden near Dorn's Restaurant at the top of the Centennial Stairway to observe the award-winning garden planted there. This location at the base of Morro Bay Boulevard is a great place to begin a walking tour of downtown.
Thrift stores and the citywide garage sale
Many locals and visitors recognize Morro Bay as a thrift store paradise. There are many shops available for you to browse through and find valuable treasures at thrifty prices. Gently used clothing, kitchenware, furniture, household items, books, toys, and anything you might be looking for. Some shops carry authentic antiques.
For the first time since the Covid outbreak, the popular City Wide Garage Sale is returning on Saturday, May 14 and Sunday, May 15 presented by Morro Bay Beautiful. The sale is from 8 a.m.-2 p.m. each day in multiple locations around town.
Downtown stroll around
Part of your walk can have you stopping by for the many flavors of ice cream or yogurt available in the old town sector. If you visit on a Saturday afternoon you can shop for locally grown produce, craft items, and kettle corn at the farmer's market held from 2:30-5 p.m. If books are your passion you can overdose at Coalesce Bookstore and Garden Chapel, the best used bookstores anywhere. There are a couple of coffee houses there too where you can sip your brew at a table outside on the sidewalk and watch the world pass by.
Once you've seen the springtime flowers in the planters that Morro Bay in Bloom have all over the downtown area, you might want to purchase some plants of your own. Visit with the fairy garden at the back of Beads by the Bay. They specialize in succulents of all varieties, air plants, and you can purchase tiny miniatures to create your very own fairy garden.
A walk around downtown Morro Bay might even have you taking in the latest picture show at the Bay Theater, getting your palm read by a local psychic, or enjoying a vegan meal at Shine Café.
Discoveries while walking Fido
Walking the dog is a popular (and necessary) exercise enjoyed by locals and visitors alike. Most shops are Fido-friendly and for quiet walks, it's best to veer off the main avenues onto the residential side streets. You might discover two little treasures if you do: the little free libraries on Anchor and Main and the free little art gallery on Monterey near Anchor.
No doubt about it, it's time for a spring walkabout in Morro Bay.
– Ruth Ann Angus
comments