Experience the laidback lifestyle and lush glasses of award-winning wine overlooking Central Coast's most coveted countryside
—Dreamy wines and beautiful views abound at Seven Angels Cellars on Templeton Rd. The Central Coast is a must-see part of California, and visiting its various scenic wineries is an educational, and enjoyable way to spend the day. The idyllic property at Seven Angels Cellars spans 93 acres and was formerly a dairy farm and equestrian pasture. The wines are made with a blend of estate-grown grapes and locally sourced grapes from high-tier growers. Utilizing the best quality fruit, the small boutique winery produces it's famously exquisite Templeton Gap gold medal-winning wines. The Martins let the natural process of winemaking and wines speak for themselves.
The entire property has many spots for sipping wine and relaxing. Wander outside to the upper pond and explore just above the tasting room where a gazebo and picnic tables await. The panorama is breathtaking and seemingly endless. Guests love the large 60 ft. deck, which features barrel tables and open views of the vines. Greg said, "It's very spectacular-from the street it looks like a Tuscan cottage. Stepping out of your car at the end of the drive it's a whole different perspective, and then, the wow factor.  People have told us they like how comfortable, welcoming, and cozy it is here. They come here because it's inviting, approachable and unintimidating."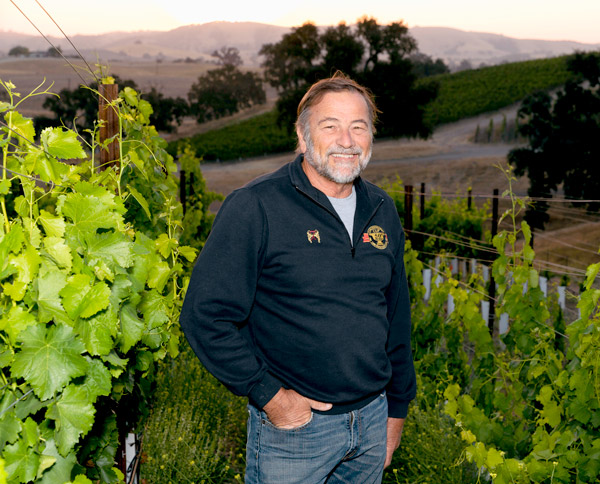 Owners Greg and Pamela started out in the wine industry after working and making wine with noted visionaries at Midnight Cellars, Dark Star Cellars, and Brian Benson Cellars. Seven Angels Cellars began in 2009, with 70 cases of their first vintage and flagship, a Petite Sirah. The Martin's blended family of 7 children are the angels in their lives and namesakes for the winery.
Seven Angels Cellars has its roots in education and the tasting room is built from a repurposed L.A. Unified School District classroom. Pamela recently retired after a 24-year career as an elementary school teacher in Southern California and found it fitting to repurpose an old classroom as their tasting room. Greg's extensive history as a contractor had the vision and together they worked on special touches to create a space that is where people want to gather and that is ever-evolving.
Many influences create a great bottle of wine. The terroir, the fruit,  and the weather in which the grapes grow are the physical components. The winemaker's constant eye on the growing vines and attention to the nuances that are taking place in the vineyard are the part of the process that is part instinct and part science. When to harvest, monitoring the fermentation, the choice of barrel for each varietal and when to bottle is when the true magic takes place. Greg said, " Each variety has its own challenges. We produce a Pinot, sourced from Edna Valley, which is a field blend of the thin-skinned varietal. "It can be persnickety while farming-there are all these fine lines of when to pick, when to pull the trigger, and when to cold soak or macerate more, and get a higher extraction on color. These are fun challenges for guys who like to make wine."
The Martins are excited by the whole process of winemaking and especially blending. The couple extracts flavor profiles from memories and notes from previous tastings going years back. Greg said, "We love to make wines with distinction. During blending trials, we practice  extreme patience. It is really fun and exciting. Blending is when we get reinforcement that we've created something special with harmony and distinction."
Seven Angels Cellars is located at 830 Templeton Rd. in Templeton. Open Friday- Sunday 12 p.m.- 5 p.m. For more information, call (805) 835-4054 or visit www.sevenangelscellars.com.
-Cassandra Frey
comments