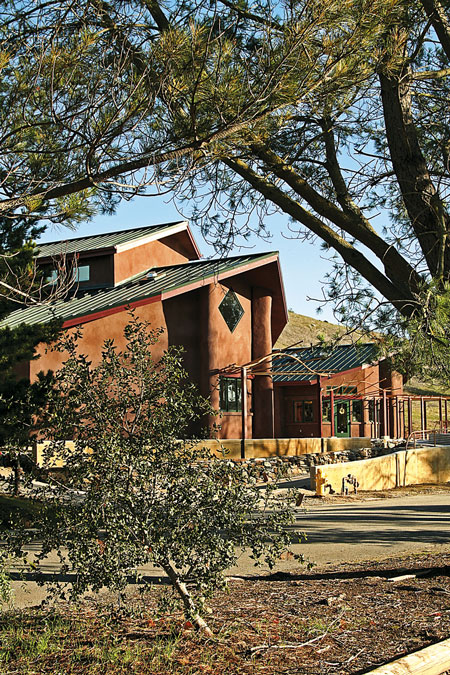 You've toured the Mission, had a blast at Thursday night Farmer's Market, and shopped until you dropped. But have you visited San Luis Obispo's Botanical Garden? Visitors to the Central Coast shouldn't pass up the chance to see this first-class Mediterranean garden.
The Botanical Garden is located in El Chorro Regional Park located midway between Morro Bay and San Luis Obispo.  Along with the Garden, the park has a campground with 63 sites, 43 with full hook-ups, a softball field, a volleyball court an off-leash dog park, horseshoe pits, barbecue facilities, trails for hiking, and Dairy Creek Golf Course.
A visit to the Gardens is fun and is a learning experience. The Garden came about through the efforts of volunteers who formed the Friends of SLO Botanical Garden in 1989 and leased the 150 acre site from the county. Since then work has been ongoing to develop the site. A master plan was designed and a two-acre Preview Garden constructed with help from Cal-Poly students opened in 1997. In 2004 construction of an environmentally friendly Education Center, the Oak Glen Pavilion began and is

now completed and many programs and art shows are offered there.
As you walk through the Garden you will see that along each trail are rich botanical plantings of the five Mediterranean climate zones. There are flowering bushes, tall trees, succulents and cactus, and wildflowers to name a few. Within the garden is an open amphitheater where docents and garden specialists put on programs. Near the Oak Glen Pavilion is a quiet serene spot, the Meditation Garden, and within the Garden are benches to rest on and take in the beauty of the plants and flowers.
On Saturdays and Sundays special activities and events for adults and children are held at the Garden. Musical concerts, author lectures, book signings, slide shows, docent tours, and demonstration gardens are just a few of the activities you might attend.
Every Tuesday is Garden Maintenance Day from 9 A.M. to 11 A.M. You can get your fingers dirty helping with the planting, weeding, mulching and watering – a real hands on experience. A plant sale is also offered on Tuesdays with plants grown in the on-site greenhouse. This is a great opportunity to enhance your own home garden and give support to the future development of the Botanical Garden. For informationcall (805) 541-1400.
— Ruth Ann Angus
comments