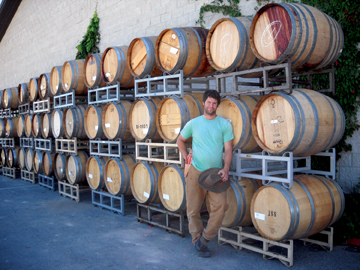 For Calcareous Winemaker Jason Joyce, winemaking is a reflection of life. Since he started making wine at Calcareous in 2007, he has found that for him, "a lot of winemaking, especially at a place like Calcareous, is about telling a story."
Calcareous, located on the west side of Paso Robles on top of one of the area's characteristic oak-dotted hills, was started in 1999 by Lloyd Messer and his daughters, Dana Brown and Erika Messer. Now, an open tasting room takes advantage of the expansive views and the winery produces about 10,000 cases of wine each year, including Bordeaux blends, Rhone blends, pinot noir, chardonnay and zinfandel. The estate vineyards were planted in 2002 with cabernet sauvignon, cabernet franc, merlot, mourvedre, grenache, syrah, malbec and chardonnay.
Jason started working in the wine industry on what he planned to be a 3-month detour from his career as a chemist. He had been working at a bio-tech startup in the Bay Area as a pharmaceutical chemist when he decided to take a break before moving to a larger company. He moved to Paso Robles to work a harvest, or as he puts it, "do some manual labor, get outdoors and get out of the city for a while." Jason had attended Cal Poly San Luis Obispo, and he was happy to return to the Central Coast for a while. He joined the winemaking staff at Calcareous and worked at "the physical side of winemaking: scrubbing stainless and floors, dragging hoses."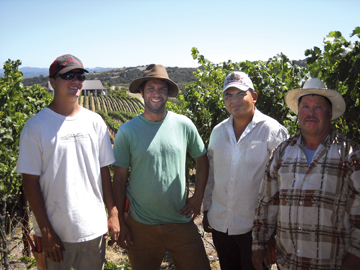 After his first harvest at Calcareous, Jason realized that he wanted his foray into the winemaking business to be more than just a detour and signed on as a permanent cellar worker at Calcareous. He became Assistant Winemaker in 2007 and in 2010 was promoted to Winemaker.
When asked about the switch from chemistry to winemaking, Jason says that "the biggest difference between science and winemaking is that with science there is one answer whereas with winemaking there are many answers." It was this creative aspect that sparked the love Jason has for his new profession.
Jason says that when making wine "there is nothing set in stone about what you are trying to accomplish" and likens the field of winemaking to a liberal arts education, in that one can "apply the full spectrum of experiences to winemaking." Jason likes that the job of a winemaker is made up of so many distinct facets, from organizing the cellar to the maintenance of the vineyards to thinking about how the wine will eventually be consumed.
He continues, "Winemaking allows you to apply that theoretical knowledge, both in the physical side of winemaking and in how you tell your story." It is this storytelling that has inspired the wines that Jason makes at Calcareous. He is excited about the maturing vineyards on the Calcareous property, which are composed of the limestone, or "calcareous," soil so beneficial in producing high-quality grapes.
Jason stays up to date with what is happening in the Calcareous vineyards by communicating with his vineyard manager and vineyard consultant on a regular basis. He also says that he does regular half-day stints in the vineyards, pruning, shoot-thinning, leaf-pulling and tucking vines, so that he can "stay reminded of how much work it actually is to farm a vineyard."
Jason explores the many components of winemaking in his blog on the Calcareous website, Chalk Talk. The blog's name references the chalky soils found on the property, and Jason has used Chalk Talk as a way to share and document what he and the Calcareous staff do on the production side of the winery, as well as his own interests in the field of winemaking.
When Jason says "The land itself is ultimately what makes Calcareous special," he is referring to both the winery's namesake soil and to the place itself. He says that at Calcareous visitors can "experience what Paso Robles has to offer." This hilltop winery is a great place to sit, take in the stunning views and enjoy the wine made possible by the land of this storied Paso Robles gem.
Calcareous is located at 3430 Peachy Canyon Road in Paso Robles, and is open daily from 11am – 5pm. Call (805) 239-0289 or visit www.calcareous.com for more information.
— Kate Joyce
comments