The little stone farmhouse that sits at the corner of Highway 46 West and Oakdale Road is where you will find the tasting room of Hunt Cellars. The winery, begun in 1996 by David Hunt and his family, offers reds and whites, varietals and blends, aged in custom made oak barrels and not released until winemaker Hunt feels they are really ready.
Hunt, who once had a professional music career, decided more than 20 years ago to abandon that journey and had a vision of living the lifestyle of a fine winemaker with his own vineyard. Hunt lost his sight to retinitis pigmentosa, but hasn't lost his vision for his winery and his passion for the lifestyle still flames.
Upon entering the tasting room you are greeted by the friendly staff and you can't miss the big white grand piano in the room. It's a player piano stocked with just about any song you can think of, but when Hunt is in residence, he plays. "After I get my audience drinking the wine they think I'm an exceptional talent," Hunt joked.
As you taste the wines you will notice that their names also reflect Hunt's musical background. There is a 2005 Chardonnay called "Moonlight Sonata" and this is a wine that, like the melody, truly transports you with its smooth, mellow mood. And then there is "Afternoon Delight" a 2006 Syrah Rose that will certainly delight you. One of the newest releases is a 2007 Zinfandel called "Rocket Man" that is sure to send you to the moon. The winery offers a variety of estate grown reds, and three exceptional whites. Hunt says most people step up to the big mahogany bar, take their first sip, step back, and say, "Wow!"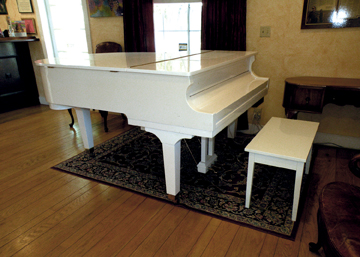 Performing music is still part of his soul though and Hunt recently recorded a new CD with full orchestration and collaboration by well-known musical artists. Naturally the recording is all about his wines.
Part of the secret to the wines is in the soil and the climate. The Paso Robles countryside is known for its summer heat and cooler winters, but microclimates exist throughout the region. A characteristic dividing line in the area has been the 101 freeway and wineries west of it claim a certain type of soil and climate and those on the east side yet another type. Hunt debunks this theory altogether.
He first chose about 30 acres on the west side but ultimately searched for his prime location which turned out to be deep in the eastern section, and elevated in height. His 550 acres called "Destiny Vineyards," named after his daughter, sits in a spot giving him four different terroirs at a variety of elevations and climates. The soil contains deposits left there from an age when the ocean covered most of the Central Coast. There is a distinct microclimate where warm days change with breezes from the sea drifting through the pass in the coastal mountains and reach the vineyard around 4:30 in the afternoon. This affords the vines more heat therms during the day but also lends a necessary cooling effect.
In order to learn all he could about the winemaking process, Hunt took several extension courses in enology at the University of California at Davis. The rest he perfected on his own and he is the last word in the winemaking process. All the blending is performed solely by him to his very exacting standards. Without sight he has developed his other senses more acutely and can tell differences in fragrance and bouquet by taste and smell. "I deliver highly extracted wines that require extended barrel aging," he said.  The barrels are of American staves and French heads. Even in the vineyard Hunt uses his sensory abilities to assure himself of the quality of his fruit as it is growing.
He must be doing something right because his wines have won numerous gold and silver medals as well as best of class and best of region awards. They always range in the 90-plus range in wine competitions. Hunt sums up his business saying "It's a curse and a passion. Winemaking is all about the finish." For those of us who enjoy the end result of his work, we hope he never finishes!
— Ruth Ann Angus
comments