Locatelli Vineyards
Locatelli Vineyards and Winery founders Louis and Raynette Gregory have made a space for themselves, their family and their family history in the rolling hills of San Miguel, just north of Paso Robles, CA. Louis and Raynette, along with partners Mark and Jeffrey Gruber, run the vineyards and winery as a family venture: brothers Mark and Jeffrey are Raynette's cousins.
Locatelli, which is named after Louis' great grandfather Cesare Locatelli, began when the Gregory family moved from their home near Fresno and in 1996 purchased the San Miguel Property. Louis was inspired by Cesare's winemaking—he was not a professional winemaker but he did make wine for his family to drink—and decided to get seriously into the wine business. Raynette says that they had driven through Paso Robles many times on trips to the coast, and as Eberle Winery fans they also knew that good wines could come from the area.
They chose the property in San Miguel as a place that they could raise their family—they have 5 children—and as a place that they could enjoy, as well as a location for their vineyards. They planted vines and now have 40 acres planted in 6 varietals: Cabernet Sauvignon, Cabernet Franc, Merlot, Petite Sirah, Malbec and Zinfandel. Raynette says that while they are in the Paso Robles appellation, they are also very much connected to the town of San Miguel. She says of San Miguel, "We feel like this area is a part of our community."
Locatelli Vineyards and Winery is just a few miles from the Mission in San Miguel, and Raynette says that they hear the mission bells every day at noon and again at 6pm. And, they produce a second brand of wine that benefits the Mission's earthquake restoration project. Old Mission San Miguel is Locatelli's second label, and 25% of the proceeds go to the Mission. While the Locatelli label is mostly estate, and represents the premium wine produced by Locatelli Vineyards and Winery, Old Mission San Miguel wine serves as a more everyday wine and is priced at around $20 per bottle. Both brands are available in the Locatelli tasting room.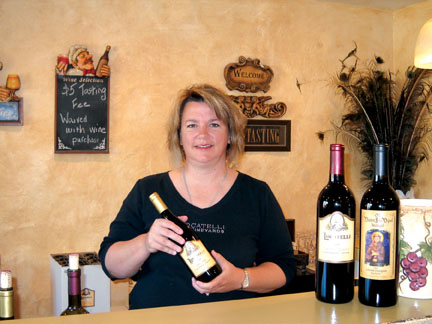 Locatelli Vineyards and Winery is a small, family-run winery, and produces around 2500 cases annually. Raynette is most often behind the tasting bar, and says that visitors are often pleasantly surprised at the intimate setting they find in the tasting room. Raynette also runs the business side of the winery and says that she wears "a lot of hats." Louis makes the wine, and partners Mark and Jeffrey are very hands-on as well, pitching in to help out with anything they can around the winery and property.
Raynette says that as a member of the Pleasant Valley Wine Trail, which she describes as an "up and coming wine trail," they receive visitors who are looking for a more slow-paced wine tasting experience. At the Locatelli tasting room Raynette can accommodate this attitude and says that she is able to "talk in depth about the winemaking process" with tasters.
In addition to the varietals grown on the Locatelli property, Locatelli Vineyards and Winery produce Pinot Grigio, Sauvignon Blanc, Sangiovese and an Old Vine Zinfandel. They also make a number of blends, all of which have Italian names. Available now are the Melodia blend, a blend of 50% Zinfandel and 50% Petite Sirah and the Luna Piena blend, made of 77% Merlot and 23% of Petit Verdot. Raynette says that they enjoy having access to as many varietals as they do because they serve as a kind of a "spice cabinet" available during the winemaking process.
Locatelli Vineyards and Winery has proved to be a successful project for the Gregory family. They enjoy their home on the outskirts of San Miguel and their business on the property. Reveling in everything from the cooling breeze that blows in from the Salinas River Valley on hot summer evenings to the connection that their business has made to other families of Locatellis, the Gregorys and Jeffrey and Mark Gruber are making Locatelli Vineyards and Winery a great out-of-the-way stop for wine tasters in the Paso Robles area.
Locatelli is located at 8585 Cross Canyons Road in San Miguel, CA, and is open for tasting from Friday to Sunday from 11am to 4pm. For information on the winery call (805) 467-0067 or visit www.locatelliwinery.com.
— Kate Joyce
comments