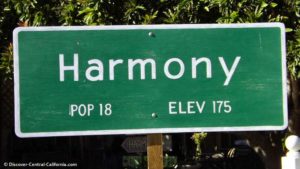 –Eighteen wine and craft beer purveyors, gourmet food trucks and the local band Bear Market Riot will come together in the heart of downtown Harmony in support of the Cambria-based non-profit Infant Essentials. The festival will be held Saturday, August 4. Gates open at 1 p.m. for wine and beer tasting and the band takes the stage at 1:30 p.m.
The Harmony Wine & Beer Festival, co-hosted by the Town of Harmony and Harmony Cellars, allows participants the opportunity to "taste" their way through this coastal hamlet. The one and only street in Harmony will be lined with local wineries and breweries offering pours of their very finest. Parked around the Old Creamery Building, the Harmony Valley Creamery Scoop Truck, Boni's Tacos and Hurricane Kitchen will be selling food. Bear Market Riot will keep the afternoon lively with music described as Power-Folk Americana.
Nestled between Cambria and Cayucos, Harmony – population 18 – was established as a dairy settlement by Swiss-Italian immigrants in the mid-1800s. The little town flourished around the Harmony Valley Creamery until the dairy finally closed in the mid-1900s. Today, Harmony still boasts a chapel, winery, glassblower and pottery shop. The Old Creamery Building, brick pathways, renovated gardens and picturesque views of the coastal countryside offer the perfect backdrop for a "small-town" festival.
Funds raised from ticket sales will support Infant Essentials, a local non-profit that provides infant necessities – diapers, baby wipes, formula, car seats, clothing and other necessities – to homeless and low-income infants from birth to three years old in San Luis Obispo County.
"Neither Food Stamp nor WIC programs offer diapers or even diaper discounts, and none of San Luis Obispo County shelters or day centers have the ability to store or distribute goods like diapers," said Heather Markham, Infant Essentials Founder. "I saw a real need to help Central Coast babies with these most basic of needs."
Infant Essentials works closely with organizations like The Family Care Network, Women's Shelter, CAPSLO and SLOCOE, and relies entirely on private funding to achieve its mission.
Tickets for the Harmony Wine & Beer Festival are available now at Harmony Cellars or can be purchased online at www.HarmonyWineAndBeerFestival.com. Advance pricing is $45 per person until June 30. After June 30, tickets are $55 per person. This is a 21 and older event.
comments