Owners celebrate nearly 30 years of excellence
–For 29 years, The Bladerunner Salon Spa Store in San Luis Obispo has been consistently surpassing the expectations of its clients. Nestled in the heart of beautiful downtown, the full-service salon and spa is located only steps away from the Mission, shops, and dining. Its ideal location offers clients the convenience of nearby parking along with proximity to many local businesses and attractions.
The Bladerunner's owners, Todd LeMay and Stephen Patrick, founded the business together nearly three decades ago. LeMay got his start on the Central Coast as a stylist in a San Luis Obispo salon. He recalls looking up to the two salon owners he worked for early on in his career and thinking, "that's what I want to be someday; I want own my own salon and walk through and greet everyone."
Thanks to a tip from a client who worked as a relator, and a partnership with Patrick (who LeMay describes as the "driving force" behind the business), the original site for The Bladerunner was purchased in 1986. The salon began with only three stylist chairs. It has grown considerably in the years since and now employs a staff of 35, including 18 stylists, four nail technicians, two estheticians, and three massage therapists.
The Bladerunner's current location on Monterey Street is the third for the salon since its original opening. "Although we've been in a few locations over the years, we've managed to stay on the same block," shared LeMay, with a laugh.
He describes The Bladerunner as having "a good energy, yet peaceful atmosphere." The spa area in particular offers clients a tranquil ambiance. One can settle in during their visit and enjoy a fresh brewed cup of coffee or tea, or a glass of wine as they unwind and get pampered. A unique feature of the salon and spa is the expansive array of retail products available. While most salons carry a handful of brands, The Bladerunner offers around 25 premium beauty brands.
When asked what he attributes The Bladerunner's longevity to, LeMay said he credits the relationships that he and his team are able to establish and cultivate – both new and long-term. He aims to "create a happy place for people to work," and for clients to patronize.
This relationship-building focus extends to the staff at The Bladerunner, which operates a true team. Everyone is willing to pitch in and support one another. Stylists are known to teach each other the latest techniques and share knowledge in order to help the team develop professionally and best serve clients. The team aspect shows through and is, in part, one of the reasons The Bladerunner has received numerous "Best of SLO" awards over the years.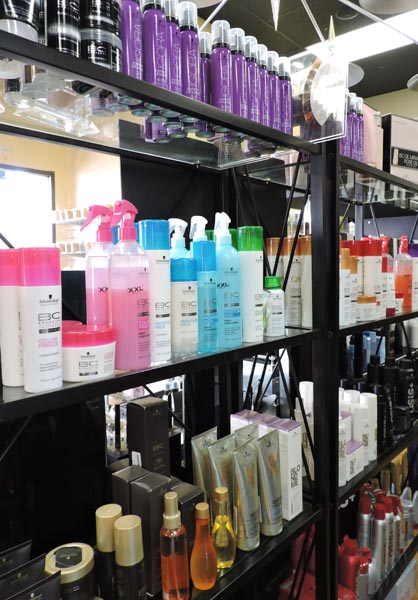 The Bladerunner's offers a wide range of beauty services and spa treatments, including hair and nail services, massage, facials, waxing and more. Whether you want to come in for a single service, or a book a full day of beauty treatments, The Bladerunner "has something for everyone" according to LeMay. He shared that the salon regularly serves a wide range of clients, ranging from young children to seniors, and everyone in between. The salon and spa are open seven days a week, and several evenings, in order to accommodate clients' schedules.
The Bladerunner also provides bridal services, both on location and in-salon. The so-called "Bladerunner Bridal" team offers everything necessary to prepare brides and bridal parties for the big day, including makeup, hair styling, airbrushing, lash extensions, and waxing.
Looking back on the The Bladerunner's past 29 years, it is clear that the salon and spa's success has resulted from building genuine relationships, providing outstanding service, and working as a team. When asked what the future holds, LeMay replied, "we will continue offering something for everyone. And we are here to stay."
The Bladerunner Salon and Day Spa is located at 894 Monterey Street in San Luis Obispo. For more information, call (805) 541-5131 or visit www.thebladerunner.com.
comments