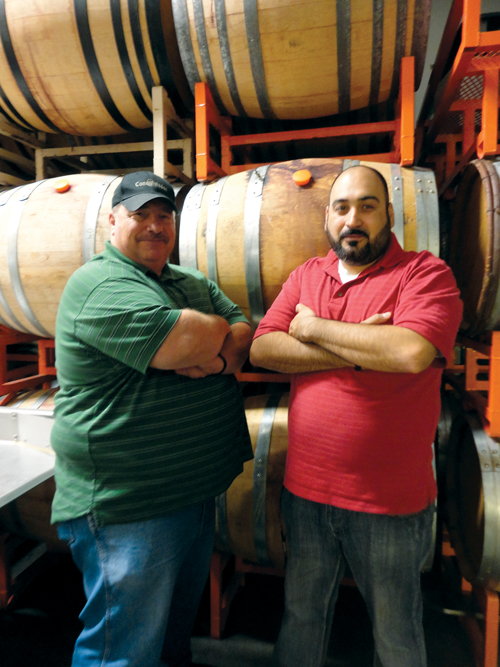 Hug Cellars wines are sure to service your good times
Food is interesting in that two of the same thing can be very different. You can present two cooks with the same ingredients and request the same dish and the results are almost-guaranteed to be strikingly different. Wine is food, and thus not all cabernets or chardonnays can be treated the same. Winemaking is not unlike art; you simply can't compare Monet to Jackson Pollock. The differences are so stark that parallels are impossible to draw.
This is the story of one small, family oriented wine operation in Paso Robles. Sure, they serve the same varietals that some of the many, many other wineries of the region do, but like the two cooks and the two artists, each winery must be examined as its own entity, and recognized for what it offers and what it does well, never in comparison to any other wine operation.
Hug Cellars debuted in 1994 with 87 cases of syrah. Last year, owners Augie and Raquel Hug produced 2100 cases of 18 different wines. Hug Cellars came to be thanks to the good graces of John Alban, owner of Alban Vineyards, who invited the Hugs to the use of his facilities to learn how to craft wines. At the time, the Hugs were operating the Central Coast Wine Room in tiny town of Harmony, along the coast between Cayucos and Cambria. The transition into winemaking seemed logical, and the Hugs say that making wine is something they've been doing ever since.
"We love nature and being out in the vineyard," said Augie Hug, "Wine making ties us with the land." The Hugs feel winemaking is very fulfilling, and consider it a form of art. Augie mentioned that he loves that he can sit with a glass of wine and look at it and taste it, knowing he made it. He analogized wine to the work of a brick mason; like a wall that continues to stand and is admired long after it was built, wine can be enjoyed many years later.
Hug Cellars specializes in cold climate grapes, sourcing much of their fruit from local coastal vineyards.  Different climates offer very different flavor profiles from the fruit, whereas grapes grown in warmer inland regions are reminiscent of red fruits such as raspberries, coastal grapes are more aromatic and floral. These more theatrical flavors arise in the fruit when it's allowed to hang on the vine. Warmer climate crops ripen and harvest earlier in the calendar when the flavors haven't had time to develop. Cooler coastal climates require more time on the vine, and are much more labor-intensive in battling the elements against threats like mildew. The leaves must be cut-back from the vines to allow for breezes to keep the grapes dry.
"Blending wine is like cooking," said Augie Hug, you have to know how the grapes are going to react, and treat them appropriately to bring out their best attributes. And Augie Hug would know about that, since he had an early career in the restaurant industry as cook, and already had in interest in food and wine pairings before he began making wine. Augie's interest in pairings has continued to grow with the passing years, and so Hug Cellars strives to make wines that are especially food-friendly. This might give the wine what Augie explained as a "more restrained" presence; they are a little soft on the tounge, which is a nice accompaniment for very flavorful dishes. A hobbyist hunter, Hug has crafted wines that go especially well with wild game, including duck, goose, venison, and elk. Every year for Zinfest, Hug Cellars offers tasters some bar-be-qued wild game; wild fowl wrapped in bacon and moose or elk chili paired with their wines. And the wines hold up well by themselves also.
Hug Cellars uses minimalistic, old-world methods. They ferment grapes whole-cluster style (meaning the fruit is left on the stem, and the whole cluster is fermented) and use the indigenous yeast, which lends a savory flavor. Their wines are pleasant and personable. Flavors across years mirror siblings in a family; while physiologically the same, they are essentially individual and unique; you can't pick a favorite.
Hug Cellars IS located in Paso Robles, tucked away in an industrial park. At first, the location is a bit jarring to most visitors' preconceptions about wine necessitating rolling hills of oaks and vines. But the Hugs embrace the atmosphere of the space and surroundings, and once you step inside you'll be completely focused on the wine. And really, it's not about picturesque views or trendy tasting rooms. The wine you buy at the tasting room is going to be drank not at the tasting room; it's going to be drank at home, amongst friends, family, and good food; the place where wine was created to be enjoyed. A glitzy presentation speaks nothing of the workmanship behind the product. The Hugs do what they do because they enjoy it. And while passion doesn't always yield money, it does yield delicious wine.
Hug Cellars is located at 2323 Turley Rd. Suite 120 in Paso Robles. For more information or driving directions, call (805) 226-8022 or visit hugcellars.com. Hug Cellars a little hard to find, but if give them a call they'll gladly guide you straight to the door. Make sure you write their phone number down before you go.
— Ana Korgan
comments