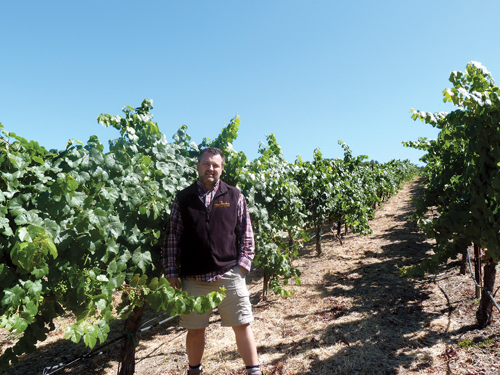 David Galzignato, Winemaker at Jada Vineyard & Winery, says he sees Jada as a "hidden jewel" in the Paso Robles wine country. With its dedication to high-quality, small-lot wines and focus on its vineyards it is easy to understand David's description.
The winery was established in 1999 by Jack and Robyn Messina. The Messinas chose Paso Robles' Westside as the spot for their ideal vineyard property after a worldwide search through numerous wine regions. The Jada Vineyard & Winery property appealed to Jack and Robyn largely because of its "calcareous shale soils and cool costal influence," says David. The property is located in an area known as the Templeton Gap, and even on hot days gets cool air from the coast earlier than other parts of Paso Robles.
Initially, says David, the Messinas sold their grapes to "a handful of premium wineries in the area." Then, he says, "the family pursued their ultimate goal of making their own wine." Jada's first vintage was from the 2005 harvest of its own vineyards.
The winery is largely family-run. Owners Jack and Robyn have established a team headed by Jack's two children, Ryan and Joshua Messina. Joshua, Jada's Assistant Winemaker, says that he also oversees marketing at Jada and that his sister Ryan focuses on direct-to-consumer sales as well as the running the tasting room. Ryan, who is trained as a chef, also prepares cheese pairings for tasters.
Joshua says of Ryan, "She works closely with Danika Reed, local cheesemonger at Vivant Fine Cheese, to personally select the artisan cheeses paired with each wine as part of the Jada tasting experience." Winemaker David was selected after a nationwide search by the Messina family for a winemaker who would share their vision for Jada.
David studied winemaking at UC Davis and honed his skills at a variety of wineries from Columbia Crest, Kendall Jackson, Charles Krug Winery, Landy Family Vineyards, Paraduxx/Duckhorn Vineyards, and Lewis Cellars. He received critical approval as he worked towards mastering his craft. Now David can use his skills in the situation that most appeals to him—at a small, boutique label.
Jada makes only about 3200 cases each year. The Jada winemaking philosophy includes allowing the winemaker the freedom to produce the best wines possible. David says, "The owner is very strict on only the best wine being bottled as Jada. If the wine does not make the cut, we bulk it out. During a difficult vintage we can remove as much as 40% from the program if it does not qualify as Jada quality. This sets us apart from most local small family owned wineries."
Jada is currently offering five for tasting and purchase in their tasting room. David says that Jada's "full portfolio includes two Red Rhone Blends, three Red Bordeaux Blends, two White Rhone blends and two wine club only wines." He adds that most of Jada's wines sell out within 6-8 months of their release.
Joshua is very excited about the wines that Jada produces. He says, "…Each label (except for our Hell's Kitchen, which is a twist on a GSM with the x-factor being the addition of Tannat) highlights a particular varietal, thereby giving the winemaker freedom to use other varietals, if it will improve the profile and complexity of the wine. We are not purists in this sense. Instead, each wine is focused, but the winemaker is given the necessary freedom to make the best wine possible and not compromise on quality and complexity."
Joshua continues, "The quick sales cycle is a testament to their simple, focused philosophy to winemaking – only make and include the best from each vintage in the Jada wines." He also says, "While each label highlights a particular varietal, we are not ideologues. We enjoy and have embraced with certain labels the blends so popular in Paso Robles."
Jada's farming practices have a big impact on the quality of the wine produced. David describes their process: "We farm our grapes with a biological focus, concentrating on soil and plant health. Our winemaking philosophy is very dynamic and involved. Every variety is treated differently, allowing for each variety to reach its full potential. No two blocks are treated equally and no two vintages are the same. We allow science and analysis to guide us through the process, but always rely on our 'gut' to make the final blending decisions. Our winemaker travels to France every two years, and has established a working relationship with the multi-generational barrel makers that craft our custom made Jada barrels."
David says of Jada, "Our vineyard site and location make us unique. We take a French stance on grape growing and winemaking, allowing the vineyard to speak to us, and express itself. We are neighbors to some amazing properties that have recently received some well-deserved recognition." Visitors to Jada Vineyard & Winery's airy tasting room can expect this "hidden jewel" to shine for them.
Visit Jada Vineyard & Winery at 5620 Vineyard Drive in Paso Robles daily from 11am – 5pm. For more information visit jadavineyard.com or call (805) 226-4200.
— Kate Joyce
Subscribe to weekly travel news
comments