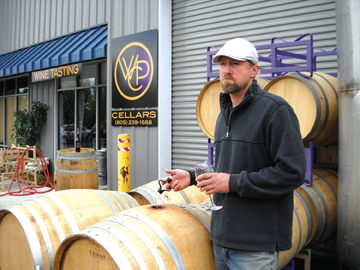 WCP Cellars winemaker and owner Will Persall has created a small urban winery that reflects his laid-back personality.
Visitors to WCP Cellars will feel as if they have been welcomed into the inner workings of a project of a friend—a friend who is doing what they love and succeeding at it.
A native to the Central Coast, Will grew up in San Luis Obispo and credits Cuesta College and Cal Poly San Luis Obispo for his "strong background in horticulture."
Using this knowledge in the winemaking industry in Paso Robles was a natural next step for Will.  After working in the wine industry for a number of years, Will graduated to making his own wine.  Will's first vintage was all Zinfandel, and he says of WCP Cellars "the whole project started with two barrels."
Now, he has been settled in his combination tasting room and cellar space for nearly a year and a half, and lists Tempranillo, Garnacha, Chardonnay, Cabernet Sauvignon, Mourvedre, Nebbiolo and Dolcetto as well as Zinfandel among the wines he produces.
He also makes blends, and says his Tempranillo-Grenache blend "The Temptress" is his current favorite.  Will says that he gave the wine this name because "it is the bottle I am always tempted to take home at night."
Will's focus is on Spanish and Italian wines because those are the wines he enjoys the most.  He says the spiciness of his wines goes well with the food he likes, Cal-Mex fusion. 
It would seem that his winemaking techniques are paying off.  His wife, Melissa, says that he is too modest when talking about his wines.  And, it doesn't seem to be in Will's nature to brag about the wine he makes.
He does say, jokingly, that the only complaint he receives from tasters in that it is too difficult for them to decide which bottle to purchase.
Will purchases his grapes from local farmers, but is planning to plant vineyards on the property where he lives with his wife and two daughters on the north end of Paso Robles.
He is currently preparing the land for the vines, and says that they enjoy watching the hawks and owls that work to keep the gopher population in check.
The future vineyard site has a 360-degree view of the surrounding area, and Will looks forward to sharing this part of his family's life with visitors.  Even with this plan, however, Will wants to keep WCP Cellars small.  He currently produces around 1000 cases annually, and likes that size.
The feeling of the tasting room, which is actually an area in Will's cellar/barrel room and is surrounded by stacks of barrels of aging wine, reflects what Will feels is important to him: making a bottle of wine that both novice and experienced tasters can enjoy.
He is also dedicated to keeping his wine affordable, and says of his tasting room, "You don't pay for the ambiance."  However, visitors to WCP Cellars can expect a fun glimpse into the behind-the-scenes aspect of wine, and, depending on the season, may get to see Will blending or bottling his wines.  Since the tasting room is also the barrel room, tasters may have a chance to taste right out of the barrel with Will.
Another aspect of the WCP Cellars tasting room that appeals to Will's lifestyle is its proximity to both Firestone Brewery and bar and music venue The Pour House.
As is true with many winemakers, he counts good beer as an essential ingredient to making good wine.  WCP Cellars stays open later than many tasting rooms and Will says he is often the last stop for groups of tasters before they all head next door to The Poorhouse for a beer and some live music.  As Will says, WCP Cellars is "a good place to enjoy the wines and have a little fun."
WCP Cellars offers wine tasting Friday-Sunday from 12-7pm and by appointment at 1335 Vendels Circle, Paso Robles, CA.  Call (805) 239-1568 or visit www.wcpcellars.com for information.
— By Kate Joyce
comments