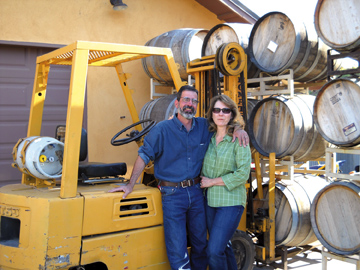 Husband-and-wife team run Changala Winery
Changala Winery, owned and run by husband-and-wife team Jean and Heidi Changala, is the product of the Changalas' love for their adopted hometown of Paso Robles.
In 1987 Jean and Heidi moved to Paso Robles from the Bay Area.  Both engineers by trade, they were excited to stretch their wings in the open space that the Central Coast had to offer, and to get back to Jean's farming roots.
Jean grew up in a farming family and then went to school at Cal Poly in San Luis Obispo.  And so it was natural that they would move to the Central Coast and try their hand at one of its main crops: grapes.
They first planted 2 acres of vineyards around their home in Templeton, with the plan of selling the grapes to local wineries.  As they became more involved with the evolving wine industry in the area—both took jobs at wineries—grapegrowing turned into winemaking as they began with small lots made at home.
Eventually, Jean and Heidi partnered with a few other families with similar interests and formed HMR Winery.  As their level of interest and activity surpassed what this label could offer them they transitioned into having their own brand, and Changala Winery was started in 1999.
The progression of Changala Winery matched the growing interest of the Changalas, and the winery gradually grew to its current state.  After making wine for a few years they opened a tiny tasting bar in downtown Templeton, in a chocolate store called Herman's Chocolate Lab.
They expanded their winemaking operation and began making wine at Midnight Cellars' facilities.  Heidi says that they felt very welcomed by Midnight Cellars, and were given "total access to the facilities."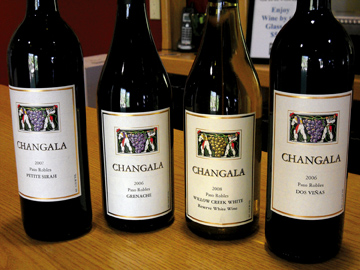 It was during this time that they purchased the 18 acres on Paso Robles' west side where the current tasting room now stands.  They moved to the property themselves, and as the business grew Jean and Heidi worked towards having a tasting room on their own property.
They opened the doors to the Changala tasting room on the weekend of Paso Robles Wine Festival in 2008.  The new space fit their needs and created a way for their customers to enjoy the property and get a sense of what goes into Changala wines.  Heidi says of their tasting room, "We love being here."
Changala Winery celebrates its anniversary each year with a Basque-themed feast of lamb tacos with homemade salsas and fresh tortillas from nearby San Miguel.  They also hire a local band, the Wine Room Troubadours, to play during the day.
This year they are hosting a winemaker dinner featuring Changala Wines and paella from the 10th Street Basque Café in San Miguel.  The inspiration for the theme is from Jean's Basque heritage.
The Changala estate produces Grenache, and Jean and Heidi look forward to planting more vineyards.
They currently source much of their fruit from other local vineyards, and have developed long-term relationships with the other farmers.  Changala makes Grenache, Syrah, Cabernet Sauvignon, Petit Verdot, Petite Sirah and Malbec, as well as a number of red blends and a white Rhône blend.
Also on the estate are fruit orchards of pears, plums and four kinds of apples.  Although the Changalas are currently working to coordinate the donation of the fruit to Backyard Harvest, much of it currently goes to delighted visitors and neighbors.
During harvest season Heidi often gives visitors to the tasting room bags and invites them to help themselves to the fruit.  She says that an unexpected result of this is the bounty that has been given back to them—she has received preserves, applesauce and even a warm apple pie all made with the fruit given away from their orchards.
One of the traits that Heidi appreciates about the Paso Robles wine industry is the way that different businesses and wineries work to help one another.  "The sense of community that exists in Paso Robles has been great," says Heidi.
Jean and Heidi are continuing this sense of community: they are currently going through the process of getting Herman's Chocolate Lab—which had closed its doors in Templeton—reopened on the Changala property.
Also keeping with the spirit of community, the Changala tasting room has opened its doors to Kaleidos Winery and now tasters can try wines from two wineries in one location.
Often, the busy tasting room is staffed by either or both of the Changalas, and the welcoming feeling that Jean and Heidi felt from the Paso Robles wine community shines through to visitors of this special place.
Changala Winery is open for tasting Friday-Monday from 11am-5pm at 3770 Willow Creek Road in Paso Robles, CA.  Call (805) 226-9060 or see www.changalawinery.com for more information.
—By Kate Joyce
Subscribe to weekly travel news
comments