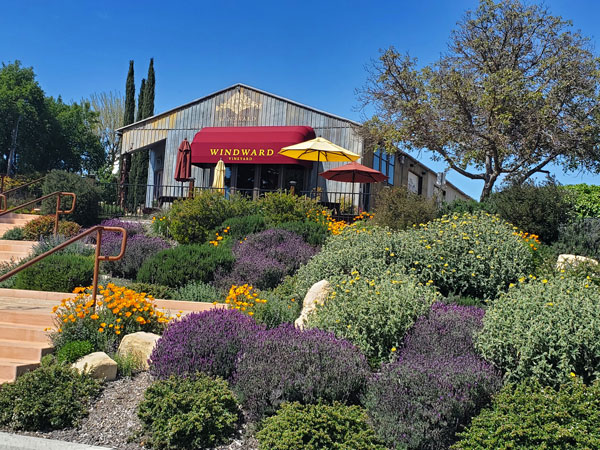 When you say 'Pinot Noir' you are saying 'Windward Vineyard'
– Marc Goldberg, the owner/winemaker of Windward Vineyard, has such a deep passion for Burgundian-style pinot noir that he has produced this varietal exclusively for the past 30 years. Windward Vineyard's award-winning wines are the culmination of that vision after years of admiring French pinot noir as well as visits to Burgundy.
When Marc and his wife Maggie began searching California for the right place to realize their dream, they discovered Paso Robles. At that time there were 12 wineries. Most of the zinfandel, cabernet sauvignon and merlot grapes were sold to wineries in Napa and Sonoma.
"When I asked about pinot, everyone said it was too hot for pinot here." But he soon discovered there was already some pinot noir growing in the region. It was planted at the advice of the famous Napa Valley consultant, Andre Tchelistchef at Hoffman Mountain Ranch (HMR) and had been growing pinot since the 1960s. After meeting HMR's owner and tasting the 1976 pinot noir, Goldberg said he was blown away. "If I could get close to making pinot that's this Burgundian I'd be a happy guy."
In 1989, the couple bought 26 acres on Paso Robles' westside. The region, blessed with cool ocean breezes blowing through the Templeton Gap, the nightly 40-degree temperature drop, plus the calcareous soils proved to be ideal for pinot grapes. The region has proven itself able of producing award-winning pinots, Windward Vineyard wines boast quite a few Double Gold medals from the San Francisco Wine Competition most recently, with a history of award winners as well. Paso now has at least 20 wineries producing the varietal, although Windward Vineyard is the place to go for their Burgundian style.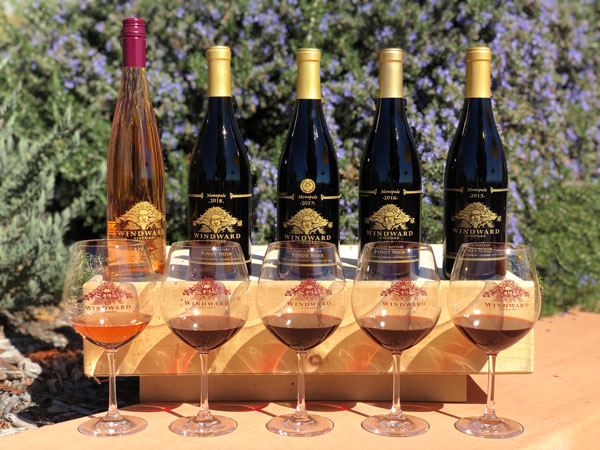 The Burgundian approach to winemaking begins in the vineyard by harvesting grapes that are not overripe. Otherwise, the wine would be too fruity with unbalanced flavors. The signature of a Windward pinot noir is that it's a perfectly balanced symphony of violets and ripe Bing cherries layered with traces of earthy notes leading to what Goldberg calls a peacock tail finish. "If you close your eyes, all the phenolics spread out and give a long peacock tail finish. That's why it complements so many foods." Windward's traditional French practices produce a pinot that is light, nuanced, complex and has a long cellar life.
A visit to the tasting room is an immersive experience through time. The wine flight is a vertical tasting – four different vintages, all from the estate, all uniquely different, plus a bonus tasting of their new white pinot noir. The Eye of the Partridge is unique with white wine flavors like stone fruit and honey, with a full-bodied red wine feel.
Most days, visitors can find Goldberg and his wife Maggie D'Ambrosia or their son, Justin, in the tasting room. Try a cheese or charcuterie pairing with the flight. Enjoy the breathtaking view of the vineyard with its mountainous backdrop outside on the terrace or inside through the large bay window.
Windward Vineyard is located at 1380 Live Oak Road in Paso Robles and is open daily from 10:30 a.m. to 5 p.m. For more information call (805) 239-2565 or visit www.windwardvineyard.com.
comments