'Relax and be pampered by hops and by the vine'
Vino+Therapy Studio in Atascadero fuses wine with spa treatments. Its signature offering is wine foot soaks, where the guest puts his or her feet into a bowl of warm wine and water. Since its start four years ago, Vino+Therapy has also added beer soaks.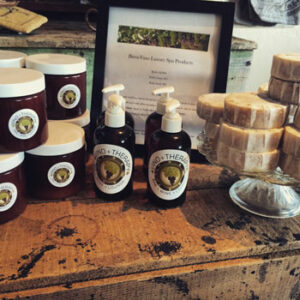 According to owner Nena Johansen, the grape seeds, stems and skins in the wine contain high quantities of powerful antioxidants, minerals, pectin, sugars, tannins and vitamins, which are fundamental to the skin's well being. The beer has medical benefits that extend to the hair, skin, nails and balance blood circulation. She said it's also high in vitamins B1, B3, as well as selenium, iron, magnesium, zinc, phosphorous and copper.
While one can go into the spa in downtown Atascadero for pampering, Vino+Therapy also offers wine and spa tours, where the guests will be picked up at a location of choice. The tour starts at the spa with a glass of wine or beer and a wine or beer foot soak for each guest. While at the spa there will be an array of appetizers to snack on while each person gets a 30-minute vino or reflexology massage. Once everyone is relaxed, the group will be taken on a three-hour wine or beer tasting tour – or a combination of the two. A light lunch will be served at one of the stops.
"This is completely customized to your likes and what you are hoping to get out of exploring the [Paso Robles] wine region," Johansen said. "This is a full day adventure you will not forget- hopefully."
A new addition to the spa is one- and two-day wellness retreats, which are tailored for visitors to the Central Coast. The packages include guided mediation or yoga in a vineyard, wine spa treatments, wine tasting tours, zip lining and ranch tours, stand-up paddle boarding with a guide, kayaking, fresh farm to table cuisine, and more.
Another neat offering of Vino+Therapy was the launch of its sister company Vintage Vine Weddings in April.
"We decided that with the Central Coast being a top wedding destination we wanted to make life just a little easier for out of town or local brides and grooms," Johansen said. "Since my wedding really didn't go as planned I thought it would be so nice to offer discounted all-in-one packages so the bride and the groom didn't have to use a whole lot of different vendors, which can be time consuming, costly and, honestly, a little scary."
The spa offers wine, beer, cheese plates and small bite-sized dessert for purchase, though guests may bring their own bottles of wine for a $10 corkage fee, as well as their own finger foods and snacks.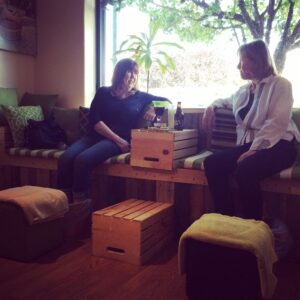 "Come and have a great time where the beer flows like wine, relax and be pampered by hops and by the vine," Johansen said.
Vino+Therapy Studio is located at 5992 Entrada Ave. in Atascadero and is open Thursday from 10 a.m. to 5 p.m., Friday and Saturday from 10 a.m. to 6 p.m. It is also open additional hours for groups of four or more: Thursday through Saturday from 6 to 8 p.m. and Sunday from 10 a.m. to 3 p.m. For more information, go to vinotherapystudio.com or call (805) 466-8466.
– Heather Young
comments