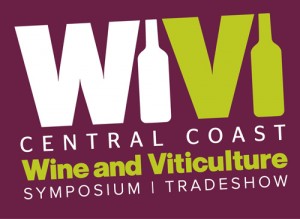 Attendees at WiVi Central Coast 2014 can learn from viticulture, enology and marketing sessions presented by some of today's top industry leaders, as well as browse products and services offered by more than 100 wine industry suppliers.
"We have a lot of exciting things happening this year – it will be educational, interactive and innovative," said WiVi Director Becky Zelinski.
The symposium will include two days of sessions, March 19-20 at the Paso Robles Event Center in Paso Robles; topics include in depth and timely discussions on topics specific to the Central Coast wine business. A departure from last year, the 2014 tradeshow will be open one day only, March 20 from 10 a.m. – 6 p.m.
Attendees registering by March 1 at www.wivicentralcoast.com will receive an early-bird discount on tickets. Additional discounts on session passes and free tradeshow passes are available to members of Central Coast wine industry trade associations.
WiVi 2014 sessions will open with a Vintage Updates & Outlook General Session. There will be three educational tracks providing the latest information on wine making, grape growing and direct-to-consumer issues. Topics range from wine club management to canopy management, to a varietal focus tasting for winemakers.
The second annual meeting is presented through a partnership between the industry's leading trade publication, Wine Business Monthly, and Paso Robles-based viticulture consulting company, Precision Ag Consulting. The businesses launched the show in 2013 to provide an educational and networking forum for the Central Coast wine industry.
"We have a lot of new and exciting changes planned for WiVi 2014," said co-owner/host, Lowell Zelinski of Precision Ag Consulting.  "Our collaboration with Wine Business Monthly has allowed us to create a tool for the Central Coast wine industry that never existed before: a premiere symposium and tradeshow that provides educational support and local access to suppliers. Last year was a success but we intend to make it bigger and better every year."
This year's changes include the addition of the direct-to-consumer sessions, and tickets that allow attendees to purchase passes for individual sessions. There will also be a Launch Party for exhibitors and session attendees on Wednesday evening, more product demonstrations on the tradeshow floor, and a wine and beer garden on Thursday. For a complete schedule, exhibitor directory and tickets go to www.wivicentralcoast.com.
Varietal Focus Tasting
Back by popular demand will be the Varietal Focus Tasting hosted by winemaker and Wine Business Monthly's Columnist, Lance Cutler. The Varietal Focus series is one of the most popular features in the magazine where Cutler and a panel of winemakers compare a variety from three different regions. WiVi makes the pages of the magazine come to life as Central Coast winemakers can now experience the tasting live. This year the focus will be on Grenache from the Sonoma, Sierra Foothills and Central Coast appellations comparing wines made in the French and Spanish styles. Tickets for this unique tasting are included with the Premium WiVi passes or can be added to any session pass for $50/pp.
WiVi is the latest tool for the Central Coast wine industry providing a place for them to gather for an unprecedented collection of industry suppliers, product demonstrations, networking opportunities and seminars on viticulture, enology and marketing addressing issues facing the Central Coast. Precision Ag Consulting is an agricultural consulting company that specializes in vineyard management, viticulture production consulting, soil fertility and irrigation management on the California Central Coast and San Joaquin Valley. For more info, visit precisionagconsulting.com
Event Details
Regional Wine Tasting & Reception
Thursday, March 20, 4-6 p.m.
Browse the WiVi Tradeshow featuring local, regional and national suppliers while sipping Central Coast wines, sampling hand-crafted micro-brewery beers and listing to live music. There will also be fabulous appetizers from local favorite Cahoot's Catering. The Welcome Reception is complimentary with WiVi Tradeshow admission.
Wine & Beer Garden
New for WiVi 2014, there will be a wine and beer garden open during the tradeshow that will feature wine and beer for sale, along with snacks and other concession – a great place to relax and meet throughout the day while enjoying Central Coast wines, beer and more.
Admission Prices & Details
Early Registration: $20/pp on passes purchased by March 1
Regular Price:  $25/pp after March 1
FREE tradeshow admission available through participating Central Coast wine industry associations; contact your association office for details
Complimentary Cahoot's BBQ Lunch
Free access to presentations on WiVi Demonstration Stage
Regional Wine Tasting option
Option to purchase an all-day session pass or single session passes for Thursday
comments