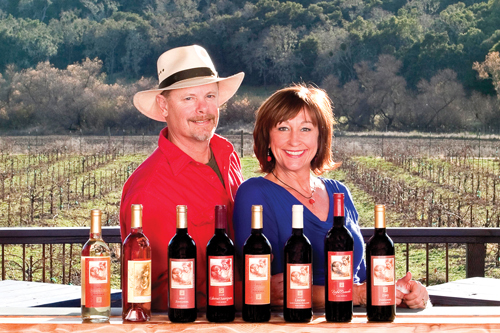 Poalillo Vineyards and Winery has been a favorite among the many small family-owned wineries in Paso Robles for many years. Charlie and Joyce Poalillo (The Founder's) had been coming to Paso Robles since 1969 to pick grapes, take them home to L.A. and make wine.  Well, they were bit by the Paso Robles winemaking bug and moved the family to Paso in 1973.  Charlie and Joyce grew grapes for the first 20 years and opened their winery and tasting room in 1994.
Susan grew up making wine with her Mom, Dad and brothers  since she was 13 and worked in the original tasting room for many years.  This deep involvement with the industry shows in the ease with which Susan now runs the winery. Susan and her husband, Dave Garretson, purchased the winery from her parents in 2010 and are enjoying adding to the business her parents started.
Susan and Dave met when Dave was helping Charlie with the wine production just for fun. In the 20 years that Dave has been working with Charlie,  Susan and he have married and had two beautiful children.  In 1999 they found  their dream property on Vineyard Drive.  After spending years renovating, restoring, remodeling and building  Dave and Susan opened the new  Poalillo tasting room. The space on the property has allowed them to add their own traditions  and style to Poalillo Vineyards and Winery.
The winery remains small and family run, and makes 1000 – 1200 cases annually.  Poalillo grows Zinfandel, Petite Syrah and Sangiovese and produces Zinfandel Rose', Sauvignon Blanc, Cabernet, Pinot Noir, Syrah, Chardonnay, and Viognier. They also make a Super Tuscan blend called Tre Palio. Susan says they are known for their Zinfandels and usually have 3 or 4 vintages available for tasting. The Poalillo winemaking philosophy, according to Susan, is "Stay out of the way of the grape and let the wine be what nature intended." She also quotes her father on the subject, "Like Charlie says, 'The winemaker's job is to make sure nothing goes wrong.'" Poalillo wines are all dry farmed, so each year's weather has a huge impact on the vintages.
Dave and Charlie are the Winemakers at Poalillo, working together as they have for years. Susan and Dave have built on the strong following of wine club members that Joyce and Charlie had with new events and special dinners. The new location of Poalillo Vineyards and Winery includes a tasting room loaded with the photos of Old Hollywood that Charlie took during his career as a photographer in Los Angeles. They also carry unique and beautiful locally made jewelry, art, candles, and bottle toppers made with grapevines.
Near the tasting room is an open-air stage which serves as a place for Dave to perform his music—guitar and banjo are his instruments—often times with local musicians sitting in as well. The stage is also a place for local actors to perform; Poalillo Vineyards and Winery will be hosting several plays  this summer with performances already scheduled for May 25th and June 7th. Wine by the glass and gourmet popcorn are included in the ticket price.  This Wine Festival will feature Internationally known musician Michael O'Dorn.  Michael will be joining Dave for a live performance Saturday, May 19th from 1:00 PM to 6:00 PM.  Lunch will be available for purchase.  Check Poalillo Vineyards Facebook page for details or call the winery at 238-0621.
Susan and Dave have also been adding their own personalities into the winery by hosting Winemaker Dinners at their home on the property.  The house, which reflects the years Susan spent as an interior decorator, is set up to host these spectacular dinners. Susan says that for them the members of their wine club are like family and friends more than customers and many club members end their day relaxing and enjoying themselves tasting Poalillo's amazing wines.  Susan says, "People think of Poalillo Vineyards and Tasting Room  as a destination," and adds that many of their customers spend several hours enjoying the sunny patio, friendly atmosphere and live music at the new Poalillo location. Many tasters often return to stay in the small guest cottage on the property.  This quaint cottage is available to members and non-members.
A member of the Far Out Wineries—a group aptly named due to their locations—Poalillo has made sure to provide all that its visitors might need. Local restaurant Fig Good Food provides fresh food daily, including salads and handmade pizzas.  Cheese and salami plates from Di Raimondos Italian Market in Paso Robles are also available.  Another local boutique winery, Stanger Vineyards, pours in the Poalillo tasting room as well, so visitors do not have to go far to enjoy even more great Paso Robles wine.
The two mottos at Poalillo vineyards, "Come for the wine, stay for the fun," and "It's not just a winery, it's a lifestyle" sum up the attitude of this next generation of Poalillo Vineyards and Winery owners. Owner Susan says of her family's winery, "Every experience at Poalillo is unique not only because of our beautiful  hand crafted limited production wines, but because everyone at Poalillo wants this stop to be the most enjoyable and memorable of the day."
Poalillo Vineyards and Winery opens daily for tastings at 11:00 AM. Find the Poalillo tasting room at 7970 Vineyard Drive in Paso Robles. Just look for the California-Tuscan style buildings with the blue tile roofs.  Call (805) 238-0621, friend us on Facebook, or visit www.poalillovineyards.com for more information.
Subscribe to weekly travel news
comments