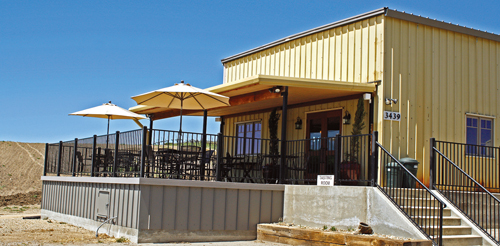 "We do nothin' fancy, just try to make good wine," Bill Hinrichs says as he pours some of the many varietals they produce at Ranchita Canyon Vineyard. Winemaking wasn't always something he and his wife Teresa did. Both held good jobs with IBM up in the Bay Area. When they found that Teresa was having twins, they began to think about a better lifestyle for raising children. Teresa retired upon the birth of the twins and Bill was fortunate to have IBM place him in a job that he would be able to do by telecommuting. "We had vacationed in Cayucos and thought we would buy a home on the water so we could hear the ocean," Bill said, "but that didn't work out." Fortunately for the wine world, the Hinrichs decided to purchase a vineyard instead.
The vineyard at Ranchita Canyon was originally planted in 1970 and they later opened as Ranchita Oaks Winery. Around 1983 that operation ceased, and the Hinrichs purchased the vineyard in May 1999. Bill and Teresa realized they had to plant more vines, and also had to pull out some of the old vines because they had virus and were on their own root stock. Ranchita Canyon is the highest vineyard on the east side with elevations from 1,000 to 1,400 feet. It contains primarily calcareous soil along with some decomposed granite (DG) in places. The Hinrichs put in Cabernet Sauvignon vines, Cabernet Franc, Sangiovese, Merlot, and more extending the vineyard acreage to the 74 acres that are now planted. Up until 2003 the Hinrichs only sold their grapes to other wineries. "We still sell 90% of our grapes to wineries," Bill stated. The Hinrichs always made some of their own wine for family and friends, and after a while they were encouraged to produce it for sale. In 2005 they were bonded and on March 14, 2008 they opened the winery.
"The great thing about being in this business is the people we meet," Bill said. "Over the years we have had help from our vineyard and winery neighbors, along with others in the industry." A new neighbor is moving in down the road who wants to grow wine grapes, and Bill and a friend plan to help him with growing and selling the wine grapes. The neighbor offered a percentage, but they said no. "That isn't necessary, because we all help one another."
Hinrichs practice sustainable farming methods according to the SIP process, but so far have not committed the funds to apply for the formal certification. "It's difficult for the small growers and wineries," Bill commented.  A grass cover crop is grown between the vines and this gets mowed. Clippings from the vines fall into the grasses and all of this is eventually tilled under. Vines are hand pruned and tended, and grapes are hand-picked and basket pressed. Bill and Teresa handle all the various winery duties, with some help from friends especially during harvest. A small destemmer sits in one of the metal Butler farm buildings that are on the site. In the next section French oak barrels are stacked. Special insulation keeps the buildings cool, and during hot summer months a strong fan is used at night to draw out the warm air and pull in the cool air.
Pests are always a problem in any farming enterprise and grape vines are no different. A loping jackrabbit ventures through the Petite Sirah just outside of the tasting room. "He's probably searching for a mate, "Bill says. Rabbits aren't the only problem. Deer like to eat the tender leaf buds and Hinrichs has even seen deer eating grapes. Along with deer and rabbits, there are coyotes, feral pigs, quail, and other birds. "I can usually tell what animal ate the grapes by how they look," Bill says. Each animal has its own way of consuming the luscious fruit. Vines are covered in netting to help keep the birds off and the entire property is surrounded by deer fencing.
Grape vines aren't the only thing the Hinrichs planted when they bought the vineyard. They put in 160 olive trees. "There are Mission and Arbequina and another one whose name I think starts with a 'P,' a small olive," Bill stated. So naturally they had to also produce olive oil. The equipment for this bottling sits nearby the destemmer in the work room.
Ranchita Canyon's tasting room is unpretentious but cozy and friendly. There are picnic tables on the veranda shaded by large umbrellas. Inside, guests can taste at the bar or sit comfortably on soft couches. Kathy Keeler, a neighbor, came with visiting relatives, all of them having a girls-day-outing. "These are some of the best wines," Keeler said. She came equipped with picnic lunches and delicious chocolate peanut butter cups to enjoy with the Dark Secret "Ports." Bill said they always bring these sweet wines to events and festivals because people frequently ask for something sweet. The Hinrichs participate in as many festivals, events and fundraisers as they can.
Ranchita Canyon wines have garnered some nice awards. They recently captured Gold at the 2012 San Francisco Wine Competition for their 2007 "Divin," a Bordeaux blend.  They also won Silver for the 2007 Merlot, 2007 Petite Sirah, and 2007 Sangiovese.  Bill wants to hang onto a bottle of the 2007 "Divin" and drink it in 31 years when he will be 100 years old. Friends suggested he hedge his bet by keeping a few cases to drink at 80, 90, and 100.
Bill stated that he feels the Petite Sirah grapes need to usually stay on the vine a bit longer and be somewhat dimpled at harvest. They use 50% of these Petite Sirah grapes, along with 50% Grenache in their "Fusion" blend. Bill calls it "Beauty and the Beast:" the Grenache is the Beauty and Petite Sirah the Beast.
In 2003 Hinrichs planted some Zinfandel vines too close to each other for head pruning. "These vines were a tangled mess," he said, so they trained them up on a regular trellis system. Those grapes were initially added to the regular crop of Zinfandel, and then a few years ago there were enough to bottle them on their own. After barrel tasting a woman suggested they name it "this is it," so she could recognize it from the regular Zinfandel when the shipment arrived. Bill and Teresa took her up on it and called the wine "Thiz-Iz-It."
Club Ranchita is the winery's wine club, and members get four bottle shipments in the spring and fall as well as a 20% discount on wine and 25% on case price. They also get a 10% discount on other merchandise and first priority to winemaker's dinners.
It's a lovely drive out to Ranchita Canyon and well worth spending some time tasting while enjoying the expansive view of the beautiful Pleasant Valley of San Miguel.
Ranchita Canyon Vineyard is located at 3439 Ranchita Canyon Road in San Miguel. Tasting room hours are Friday through Monday from 11:00 am to 5:00 pm. For more information, visit their website ranchitacanyonvineyard.com or call (805) 467-9448. They can also be found on Facebook.
— Ruth Ann Angus
Subscribe to weekly travel news
comments