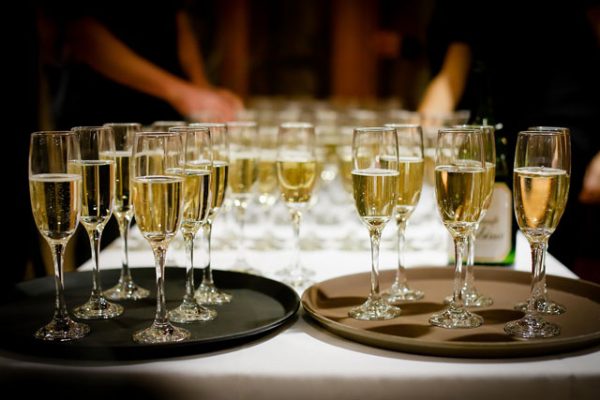 –With the holiday season just around the corner, we invited our local wineries to help us with their top wine recommendations. Wow, were we impressed by the submissions! When you celebrate this season, throw holiday parties, and plan your Christmas dinner, consider pouring some of our tasty local wines.
---
Best sparkling wine recommendations
Bianchi Signature Sparkling – $25
This sparking is a Champagne-style wine made with Methode Charmat fermented in stainless tanks. Its predominately French Columbard grapes give it a pleasant brut dryness creating a unique clean pungent fruitiness. Perfect for your holiday toasts and cheers and everyday sparkling enjoyment.
Broken Earth 2015 Merlot Sotto Voce – $30
This sparkling merlot shows a deep crimson red hue and a touch of sweetness sure to delight any holiday party. It offers bold flavors of cherry, licorice and red currants. Pair it with salads and appetizers. Cheers!
Circle B 2018 Sparkling Grenache Rosé – $36
This is the winery's first sparkling wine. It's is made from estate head-trained grenache vines. It is clean and crisp on the palate with tiny bubbles and carries a perfect balance of fruity flavors and acidity.
Hoyt Family Vineyards Classic Brut Sparkling Wine – $40
A sophisticated Methode Champignon sourced from Sonoma County grapes. It's light, crisp and refreshing. Perfect for holiday celebrations or any Sunday morning. Dry, with notes of pear and apple.
Opolo Vineyards Sparkling – $14
A 100% French Colombard sparkling wine produced in the Method Charmet process. This wine is light and refreshing. It's light golden in color and full of flavor with pronounced ribbons of bubbles. The wine delivers flavors of peach and apple. It's a great value in this category
Sculpterra Sparkling Wine – $26
This is the winery's first-ever sparkling wine. It's concentrated with bouquets of toasted hazelnut, even bread crust and a hint of classic stone fruits. The fruit comes from the coastal regions of Central California and is 100% French Colombard. The fruit is grown for sparkling wine production and the grapes are picked at the perfect time with proper sugar and acid balance in the berries.
Vina Robles Brut Sparkling Wine – $23
A classic non-vintage bubbly perfect for holiday toasts. It's a blend of chardonnay and pinot noir. This sparkling wine is produced using the traditional Methode Champenoise" style, which undergoes a secondary fermentation in the bottle. It has notes of apple and a toasty finish.
---
Best white wine recommendations
Bianchi 2018 Rosé – $25
This 100% rosé of cinsault from Monterey County vines as crafted in a French style. It offers aromas and flavors of grapefruit, guava, pineapple and tart strawberries with a dry finish on the palate.
Bovino Vineyards 2015 Estate Rosé – $26
This is a blend of 60% grenache and 40% mourvedre. It has aromas of sweet cherry and strawberry bring a crisp, clean taste with a finish that gives you a rich mouthfeel. This wine will pair perfectly with turkey, which makes it a great wine to take to Thanksgiving this year.

Broken Earth 2018 Grenach Rosé – $20
The nose of this wine highlights strawberry characteristics that come from grenache. It cleanses the palate with its structured acidity and backbone of fruity flavors. It delivers the freshness representative of a Rosé de Provence. Pairs nicely with cheese and crackers and other appetizers. It won a gold medal at the Denver International Wine Competition.
Midnight Cellars 2018 Luna Rosé – $21
This rosé has a fruity flavor of strawberries with hint of peach blossoms. It has a crisp and dry finish. It's a great wine to start with appetizers or toast to your holiday meal. Enjoy it with turkey, pork tenderloin, and even salmon.
Opolo 2018 Rosé – $24
Sourced from four vineyards to create balance and depth, this rosé is a blend of grenache, syrah and a kiss of viognier. It offers aromas and flavors of fresh-cut watermelon, sour cherry, and lychee with notes of rose petals and strawberries.
Peachy Canyon 2018 Rosé – $24

This is primarily a blend of zinfandel and grenache grapes. It is peach-rose pink and clear in color and smells of strawberry, guava, and lychee. Bright, acidic and flavorful on the palate, this wine tastes of strawberries, peaches, nectarines, and mandarin orange.
Penman Springs 2018 Petite Sirah Rosé – $20
This pink was pressed from petite syrah grapes and has aromas of strawberries and watermelon to fill your senses. It is dry and refreshing and will coat your palate with hints of citrus and cranberry. It was barrel-aged for six months in neutral oak, lending it a creamy finish. This will pair well with turkey and all your sides for Thanksgiving.
San Simeon 2018 Grenache Rosé – $19.95
A long, cold fermentation in stainless steel tanks at 55-degrees for several weeks preserves the delicate flavors and aromas of this variety. Taste red ripe berry, cantaloupe, and rose petal notes. It pairs well with an array of appetizers. It earned a double gold medal in the American Fine Wine Rosé Competition.
Sculpterra 2018 Paso Pink – $28
Bright focused tropical fruit drives the texture and crisp flavors of this wine. It follows with flavors of guava, orange, and strawberry with a touch of earthiness and spice too. It has a wonderful mouthfeel and finish that offers hints at floral rose petal and lavender.  Drink it now through 2020 for the best tasting experience possible.
Sea Shell Cellars 2018 Grenache Rosé – $19

This 100% grenache rose was grown in Estrella District AVA in Paso Robles. The fruit was harvested early in order to retain lots of natural acidity and then placed directly in the press and squeezed, with only minimal skin contact time in order to give the wine its delicate color. It was kept in stainless steel for the 2.5 months between the end of its fermentation and bottling in order to preserve as much freshness in the wine as possible. It offers flavors and aromas of stone fruits like white peaches and nectarines with notes of black tea and finishes with crispy acidity.
Tablas Creek 2018 Patelin de Tablas Rosé – $22.50
This wine was crafted in the tradition of Provence, France, produced from three red Rhône varietals: grenache, mourvèdre, and counoise. It is a vibrant light peach color. On the nose are spicy aromatics of nectarine, grapefruit, and crushed rock. The mouth is bright with flavors of raspberry and blood orange, with mouthwatering acidity giving focus to a long finish with flavors of lemon drops and fresh minerality. Drink now and over the next year. It earned 90 points from Wine Spectator.
Vina Robles 2018 Rosé – $17
This rosé of syrah, grenache, and viognier from Vina Robles' Huerhuero Vineyard is packed with flavor and a great value. It has aromas of red cherry and pomegranate with hints of peach and rose petals with red cherry flavors and moderate acidity. Like most rose wines, chilled its best way to drink it. It will pair well with pork and light chicken dishes. It even goes well with smoked salmon.
Windward Vineyard 2018 Eye of the Partridge – $28
This is a unique creation, neither a white nor a rosé, according to the winery. It was made with estate red pinot noir fruit, hand-selected and harvested early with a lower brix to highlight crisp acidity, then crafted using the pressurage direct method. After fermenting in stainless steel, the wine rested in neutral oak before bottling. The result is a full-bodied and crisp wine that resembles a pale rosé. Stonefruit and honeycomb draw you into the glass, leading to lemon verbena and peaches. The fruit is balanced by lovely minerality, acidity for a full-bodied white wine. It was a gold medal winner at the Central Coast Wine Competition.
---
Best white wine recommendations
Barton 2018 Holiday Clairette Blanche – $32
Made from grapes in the Adelaide District AVA, this wine offers aromas of chamomile, green tea and a hint of ginger. It has pear and mineral notes, with a crème brûlée on the palate. This wine is bone-dry with fresh acidity that leads to a clean, crisp finish. It is amazing with oysters and seafood. Drink now or over the next 3-5 years.
Bianchi 2018 Chardonnay – $27

Excellent value for a delightful white wine. It has scents of buttered popcorn and grilled pineapple with toasty oak spice. It was aged 10 months in French oak.
Broken Earth Winery 2018 Albarino 2018 – $24
This delightful white wine offers aromas of fresh-cut grass and tropical fruit, this Portuguese variety offers balanced botanical and acidic flavors on the palate. Pair with seafood like oysters, scallops, or pan-seared white fish.
Felten Cellars 2018 Chardonnay – $28
This chardonnay exhibits balanced tropical notes of pineapple lime and red apple, enhanced by flavors of buttered toast. It is medium-bodied, intense citrus with a crisp finish. Enjoy now at a holiday celebration or cellar for a few years.
Hope Family Wines – Austin Hope 2018 Cellar Select Chardonnay – $47
A regal chardonnay from one of this region's premium winemakers. It is Austin's first chardonnay under his label, very few bottles were produced, and it is only available in the tasting room. Whole cluster fermentation was used to make this special wine. It has flavors and aromas of honey, toast, light citrus, with a touch of minerality, and a crisp finish. It's a very well-balanced wine. It will pair well with pork, salmon, yellowfin tuna, chicken, and turkey.
Hoyt Family Vineyards 2018 Viognier – $30
The grapes in this wine were handpicked from the winery's vineyard in the desirable Willow Creek AVA in westside Paso Robles. This delightful un-oaked, 100% viognier boasts notes of grapefruit and citrus. It is light and elegant with a gentle floral nose and soft mouthfeel.
LaZarre Wines 2018 Sauvignon Blanc – $24
This delightful Santa Inez white has aromas of pear juice, white peach, and honeydew melon with a hint of grass that characterizes this varietal. It delivers tons of citrus and tree fruit flavors like Meyer lemon, grapefruit, and pear. It has an added richness from extended lees aging.
Lone Madrone 2018 Oveja  – $40
A white Rhone-style blend of 51% grenache blanc and 49% picpoul blanc. Fermented and aged sur lie in concrete tank, malolactic completed and bottled after 10 months in the concrete. Will pair well with ahi tacos with mango salsa, chipotle, New England clam chowder.
Lusso Della Terra 2018 Roussanne – $24
This 100%-stainless tank made wine has traditional Rhone-style flavors of honeysuckle and iris with subtle notes of melon. Bright flavors of tropical fruits, melon, and floral notes with balanced minerality on the finish. It won a gold medal in the San Francisco Chronicle Wine Competition.
Midnight Cellars 2018 Grenache Blanc "Andromeda" – $34
This Rhone-style white wine offers a crisp, fresh nose with bright citrus and inviting tropical notes. On the palate, lemon zest layers among ripe Anjou pears and grapefruit frame a refreshing finish.
Opolo 2018 Viognier – $26
Grown predominantly on Opolo's estate vineyards, this viognier expresses concentrated flavors of tropical fruit, honeysuckle, papaya and Crenshaw melon. A delightfully fleshy and unctuous mid-mouth, it leads into a vibrant green apple and guava finish. It was made to drink now.
Peachy Canyon 2018 Chardonnay – $32
This York Mountain chardonnay opens with pears, apples, almond blossoms, and orange zest dominate the nose. Flavors fill your mouth with tart lemon drops, peaches, honeysuckle, and key limes are complemented by a soft vanilla meringue backbone that leads to a lengthy finish.
Penman Springs Vineyard 2017 Muscat Blanc "Ozzie" – $15
This muscat blanc is a great value and perfect for the holidays. It offers sweet aromas of citrus with flavors of apricots followed by a smooth, silky and sparkly finish.
Riverstar 2018 Sauvignon Blanc – $18
This delightful white has tropical aromas with notes of citrus, grapefruit and passion fruit. It finishes with bright acidity. It pairs nicely with chevre cheeses, seafood dishes and white meats. It's a fantastic value.
San Simeon 2018 Sauvignon Blanc – $18.95

This is a bright, refreshing wine with intense flavors of citrus and pear. The nose reveals bright aromas of white peach and lime zest. Mineral notes express the rocky terroir of the vineyard. This structured and well-balanced wine shows a lengthy finish. Enjoy with grilled swordfish and basil pesto linguine.
Sculpterra 2017 Viognier – $28
This viognier highlights fruity aromas with a slight mineral edge. The ripe flavors continually show white peach, pear, cantaloupe and even honeysuckle on the nose. While the palette focuses on firm acidity and the best lingering finish imaginable. Elements of freshly sliced honeydew, savory nectarine and subtle spice delicately mingle with notes of ripe pear in this deliciously textured white wine.
Sea Shell Cellars 2018 Viognier – $24
This wine is a menagerie of enticing aromas and flavors. It bursts out of the glass with notes of succulent white peaches, orange blossom, and star jasmine. On the palate, more restrained nuances of citrus fruit and Asian pears emerge.
Seven Angels Cellars 2016 Grenache Blanc – $22
This plush wine is deep lemon in color. The aromas burst with green apple, light notes of apricot and include subtle sweet floral notes of honeysuckle. On the palate it is plump and rich, with juicy white peach, soft pineapple leading to green herbs and salty minerals, giving this wine a spice-driven finish.
Tablas Creek 2016 Esprit de Tablas Blanc – $50

A wine for a special occasion. This is a blend of three estate-grown varieties: Roussanne provides a core richness, minerality, and flavors of honey and spice, while grenache blanc adds green apple and anise flavors, a lush mouthfeel and bright acids. Picpoul blanc completes the blend, adding a saline minerality and tropical notes.
Victor Hugo 2018 Estate Viognier – $24
This viognier offers aromas of honeysuckle and ripe apricots intertwined with hints of almond blossom. The rich, silky flavors from the new seasoned Hungarian Oak Barrels give it a rich finish. It is ready to drink now, this viognier is delicious and approachable. It's a good wine to pair with appetizers, cheeses, and a holiday meal.
Vina Robles 2018 Chardonnay – $23
From the Mistral Vineyard in southern Monterey, where its proximity to the bay and Pacific breezes create the perfect environment for this cool climate variety. The juice was racked to both stainless steel tanks and French oak barrels for fermentation. The wine was then aged on its lees for six months to increase complexity and enrich the mouthfeel. It offers aromas and flavors of apple and caramel, with hints of lemon, and a creamy finish.
---
Best pinot noir wine recommendations
Bianchi Winery 2017 Pinot Noir – $38
Cooling ocean breezes of Santa Barbara County vineyards give this pinot noir a light finesse and wonderful berry flavors. Aged 14 months in French oak barrels.
Bushong 2018 Ananda Pinot Noir – $47
The word Ananda is from Hindu, meaning a state of extreme happiness, one of the highest states of being. You're sure to find that with this 100% pinot noir grown on the Derbyshire Vineyard on coastal San Luis Obispo County. This delicious wine offers aromas and flavors of black currant, juniper, and sweet mint.
LaZarre 2017 Pinot Noir – $42
The fruit in this bottle comes from the Central Coast AVA. It has a complex array of aromatics: black cherry, graphite, and sagebrush. The flavors are even more intense with cherry cola and hints of plum. The wine was aged 16 months in French and neutral oak barrels. "This is a badass wine that will age gracefully," says winemaker Adam LaZarre. Pair with salmon, fowl, and other white meat.
Lusso Della Terra 2015 Reserve Pinot Noir – $45

This pinot was grown in the hills of the Paso Robles Adelaida District AVA. Indulge in the luscious aromas of ripe cherry, raspberry, cranberry and oak. Savory the flavors of cherry, plum, spice with a beautifully layered texture, round and juicy with a lingering finish.
Seven Angels Cellars 2015 Pinot Noir – $38
This wine was grown in the Wolff Vineyards in the Edna Valley AVA of San Luis Obispo. This alluring wine is a pleasant ruby red in color with a nose of raspberry and softwood. nose. This wine boasts some complexity from the winery's oak program with flavors of soft vanilla, cherry, and raspberry. This wine won a gold medal at the Central Coast Wine Competition, among other accolades.
Windward Vineyards 2017 Monopole Pinot Noir – $44
This vintage is a perfect expression of Windward, arguable the best pinot noir producer in Paso Robles. Bing cherries highlight this wine, from the nose to the lingering finish. Aromas of the cherry and earthiness share the stage with the salted caramel. On the palate, you'll find hints of cranberry swirl with the cherry. The lush, rich feel on mid-palate draws you in, and the lingering finish leaves you with fresh leather and berries. It drinks beautifully now or will lie down for another 20 years.
---
Best zinfandel and Italian-style wine recommendations
Broken Earth Winery 2017 Zinfandel – $29

This is a lighter-style zin with a transparent candy-shade red hue. Nuances on the nose include dried herbs, licorice, and summer raspberries. These flavors relax and stretch out on the palate, leaving tastes of juicy fruit that are able to shine through the soft tannin structure. To achieve a restrained style of zin, the fermentation is kept very low, keeping the flavor balance in check.
Felten Cellars 2015 Zinfandel – $28
An overall robust wine delivering intense spicy complexity that goes down easy. Blackberry, pepper, and cocoa blend to deliver a full-bodied tasting experience. A glass of this wine pairs nicely with a BBQ steak or any chocolate dessert.
Opaque 2016 Zinfandel – $30.95
This zinfandel blend is called Opaque because of its dark, inky color. It's made by the Riboli Family of San Antonio Wines. It has rich aromas and flavors of raspberry and blackberry with notes of spice and vanilla. It was aged in French and American Oak for 12 months. This wine earned 93 points at the California State Fair Wine Competition.
Opolo 2018 Mountain Zinfandel – $29
This is one of Paso Robles's iconic zinfandel wines. It's a decadently jammy and fruit-forward wine. Opens with rich aromas of raspberry, rhubarb, Bing cherry with hints of vanilla, cedar and tea leaf. Flavors of dark plum and cherry are married with silky smooth tannins that lead into a long and stratifying finish.
Peachy Canyon 2017 Westside Zinfandel – $20

Our holiday zinfandel recommendations would not be complete without a nod to one of Paso Robles' most-famed zin producers. This bottle delivers classic Paso Robles zinfandel flavors. This wine is flush with floral aromas. On the palate, taste blueberry, rhubarb, and orange zest. It leaves a dry, white peppery finish. It is a great value in this category.
Riverstar Vineyards 2016 Zinfandel – $28
This zinfandel has a thick and sweet taste right from the start. Hints of Blackberry and chocolate dance on the nose. Very smooth and steady overall sweet taste. Finishes with a prominent vanilla finale.
Victor Hugo 2016 Estate Zinfandel- $26
This zinfandel is full-bodied, and wildly aromatic, with hints of toasted oak, blackberries and velvety tannins, this wine has a rich bold finish and is well-balanced. Delightful first sip but crisper after breathing in the glass. This Zin would pair perfectly with a Rack of Lamb or a Filet Mignon. Bring home this big bold varietal for the holidays!
Vina Robles 2016 Zinfandel – $34
This classic zin shows ruby garnet colors. It has a delicious nose of red fruits and hints of black pepper. It delivers flavors of rich berry fruit and chocolate. It will pair well with pork, lamb and filet mignon. It has a touch of petite sirah blended in and was aged 16 months in French and American oak.
Vista Del Rey 2017 'Bomba Ciruela' Zinfandel – $30
A robust mouthful of dry-farmed zinfandel grapes from long-time local winemaker Dave King. It's a big, spicy wine with dark berry, plum, and cherry flavors. Drink all by itself or pair with grilled meats, pizzas and pastas. Enjoy a glass while decorating for the holidays.
---
Best Spanish-style wine recommendations
Bovino Vineyards 2015 Joludi Tempranillo – $36
This is a medium- to full-bodied tempranillo, ruby red in color with red fruit characteristics of berries, cherries, and plums. Aromas and flavors also include tobacco, vanilla, leather and herb. Enjoy the dark, velvety texture with grilled meat, chicken, stews, seafood, and aged cheeses.
Broken Earth Winery 2018 Albarino 2018 – $24
This delightful white wine offers aromas of fresh-cut grass and tropical fruit, this Portuguese variety offers balanced botanical and acidic flavors on the palate. Pair with seafood like oysters, scallops, or pan-seared white fish.
Bushong 2018 'Sleep Angels' Barbera – $37
This is a 100% barbera from winemaker Jason Bushong from grapes grown on the Famous Author Vineyard in Paso Robles. It is a rich, smooth and balanced red wine. Bushong says, "This gorgeous wine provokes all the senses with rich aromas of incense transforming into butterscotch while the palate is dreamy of red brambleberry, decadent plum, and black cherry." We agree!
Diablo Paso 2016 Garnacha – $42
Though the French varietal Grenache is perhaps more widely known, the Spanish garnacha is one of the oldest varieties grown in California. Spanish settlers along the west coast began planting garnacha, which originated in the Spanish province of Aragon, in the mid-1800s for wine production. This wine used whole-cluster fermentation. The result is a rich and elegant yet medium-bodied wine, with a violet rim and orange highlights and a deep cherry tone at the core.
Felten Cellars 2015 Tempranillo – $34
This is a 100% tempranillo grown in the Adelaide District. The wine offers intense, ripe aromas of bing cherry and plum, with spicy notes of cinnamon and pepper. It's full-bodied with flavors of blueberry and mocha. It will pair well with any red meat dish or rich chocolate desserts.
Opolo 2018 Albarino – $26
This delightful Spanish-styled white wine was made from grapes grown in Edna Valley. It offers aromas and flavors of melons, ripe nectarines, and a hint of basil. It has a crisp finish.
Opolo 2016 Tempranillo – $30
This wine has a lively nose of plum, dried cranberry, crushed rock and a hint of campfire smoke, delivers a luxurious mouthfeel of cranberry laced with Asian spice. These flavors lead into polished tannins that linger and last to the finish. Drink now, or age for 10+ years with proper cellaring.
Ranchero Cellars 2016 Revolver – $48
Evoking the rustic and muscular style of Spanish red wines, this blend of tempranillo and carignan shows dark fruit and velvety tannins. On the nose, the tempranillo imparts ripe cherry and plum, with a bit of smoke and leather, while the carignan brings fresh black raspberry, loamy earth, and spice. In the mouth, the wine is lush and supple, with a surprisingly firm backbone. It finishes long with a hint of sweet tobacco and plenty of rich fruit. It earned platinum medals from the San Diego International Wine Competition and the Monterey International Wine Competition.
Vista Del Rey Vineyards 2018 "Toro Negro" Barbera – $30
A wonderful Spanish-style varietal from winemaker Dave King. It has a medium ruby color with aromas and flavors of plum, cherry, and rhubarb. Pairs well with barbecued sausage, pork, and chicken.
---
Best cabernet sauvignon wine recommendations
Bianchi 2017 Cabernet Sauvignon – $35
This Bianchi Estate wine is made with their flagship fruit. It's a wine with many layers, coffee-berry floral plum, vanilla, and earth. It was aged 24 months in French oak barrels.
Broken Earth 2016 CV Reserve Cabernet Sauvignon – $80
This is a plush example of Paso Robles ripeness, says Wine Enthusiast magazine, which gave the 93 points. Plump aromas of black cherry, vanilla and caramel are cut by pepper and herbs. The palate is soft and lush, but offers penetrating acidity that keeps the baking spice and blackberry flavors in balance. The term CV refers to the original vineyard holdings at the Broken Earth estate, Continental Vineyards, and this very limited wine is only produced in exceptional vintage years.
Circle B Vineyard and Cellars 2015 Cabernet Sauvignon – $36
This is a handcrafted, small-batch wine and you can taste its uniqueness. Upfront notes taste of tart raspberry and clean slate gives way to blackberry and spice with mild tannins and a clean finish. The perfect wine to pair with red meats, smoked salmon, sharp cheeses, or olives. This classic Paso cab is versatile enough to be served at any holiday gathering.
Opolo 2017 Cabernet Sauvignon – $36

This wine has rich aromas of hickory smoke and garden herbaceousness. It offers flavors of raisin, cherry compote, and cranberry. It finishes with long velvety tannins with a plush mouthfeel and hints of chocolate and cinnamon.
The grapes for this wine were grown in the rolling hills of eastside Paso Robles. Rich on the nose with hints of cedar and raspberry. Dark plum, currant, and berry spice lead to a bright palate. Intense fruit flavors with a finish of loamy earth and fine oak. This wine will age well for 10 years. This wine pairs perfectly with steak, beef short ribs, and cheeses.

Hoyt Family Vineyards NV Cabernet Sauvignon – $45
This five medal-winning wine greets the nose with well-bodied fruit followed by a velvety mouthfeel. This wine is full-bodied with an intriguing structure that encourages savoring and exploring the flavors of dark berries, hints of spices and mocha latte. It earned a gold medal at the 2019 Sunset International Wine Competition and four silver medals in 2019, including the 2019 San Francisco Chronicle Wine Competition. Only 96 cases were produced.
Lusso Della Terra 2016 Cabernet Sauvignon – $38
A vibrant wine with aromas of fresh blackberry, plum, black currant and violet aromas. It is complemented by flavors of ripe, complex, dark fruit, blackberry, pomegranate, savory spice, hints of chocolate with a beautiful integration of oak. It finishes with a truly powerful full-bodied mouthwatering mouthfeel.
Dark, jammy fruit opens on the nose, followed by cherry, white pepper and a hint of mushroom on the back of the nose. A touch of bay leaf and slate help bring a delightful vibrancy, while vanilla and caramel round it off. That touch of bay leaf makes an appearance on the palate, along with the white pepper and hint of vanilla. The rich, dark berries burst on the tongue, all leaving a savory bite to the wine. This 100% Cabernet Sauvignon envelops your taste buds with a satiny finish and generous tannins to allow for aging.
Sculpterra Winery 2016 Bentley Ironworks Cabernet Sauvignon – $68

This is a blend of 90-percent cabernet sauvignon and 10-percent petite sirah that tempts the nose with an oaky bouquet layered with complex herb and spice aromas. Bursts of clove, red currant, plums and a hint of pepper follow a full-bodied mouthfeel. A lengthy finish carries through to a lingering and intriguing spicy finish. An enjoyable wine now, this wine will also age for decades. Only 295 cases were produced and the wine aged 18 months in the bottle before being released.
Sea Shell Cellars 2017 Low Tide Cabernet Sauvignon – $35
From the first pour, this wine exudes an aroma of fruit. It has upfront notes taste of raspberry, cassis, and cherry that gradually give way to richer undertones of vanilla bean, coffee, and baking spices. This is a slightly sweet wine that lingers on the palate. Enjoy with steak, duck, or even chocolate. With its medium tannins and warm flavors, this wine is perfect for pairing with holiday meals.
Treana 2017 Cabernet Sauvignon – $30
This wine is an excellent display of Paso Robles cabernets. At first glance, this dark crimson wine sets the stage for the beautiful aromas of warm chocolate, roasted coffee & toasty cedar. On the palate, intense dark fruit, sweet vanilla combine with a smoky-oak to give a long rich mouth feel that finishes with balanced acidity and moderate, velvety tannins.
Vina Robles 2017 Cabernet Sauvignon – $26
The fruit for this vintage is from two of the winery's estate vineyards in Paso Robles – Huerhuero and Creston Valley. After eight months of aging and blending trials, a bit of petit verdot was added to enhance the structure. The final blend was then aged in barrels for an additional 12 months to fully integrate before bottling. The final product is full-bodied with aromas and flavors of cassis and dark cherry, with chewy textured tannins.
---
Best Rhone-style red wine recommendations
Austin Hope 2016 Mouvedre – $65
This mourvedre is one of Hope's most sought after wines. It's a small production wine with a deep ruby core and garnet rim. Aromas of dried cranberry and blueberry blend with herbal notes of sage, clove and green tea. On the palate, a slight splash of fresh blueberry quickly evolves to more meaty rich full-bodied flavors of smoke, stewed black fruit and hints of cocoa. The bold firm tannins are balanced by acidity that complete this wine beautifully. It's from winegrapes grown in the Templeton Gap of the Paso Robles AVA.
Bovino 2015 Estate Grenache – $36
This wine is chock full of red fruit flavors with white pepper and a subtle spicy back end. It's delicious with most any dish – a very versatile wine that you can take to any holiday celebration and it will be well received.
Bushong 2016 Power Corruption & Lies – $43

A deep, rich blend of 50% syrah, 33% petite sirah, and 17% grenache. The syrah was grown in the Templeton Gap AVA. It was aged 18 months in French oak barrels, 1/3 new oak. It has a nose of black cherry with cocoa and holiday spices. It's full-bodied with smooth tannins This wine lends itself to be the sophisticated red wine at the holiday table.
Brecon Estate 2017 Forty Two – $60
This Rhone-style red blend is soft, velvety smooth, and has an intriguing mix of both forest fruit aromas and flavors as well as. "42" is the answer to the "ultimate question of life, the universe, and everything," according to Douglas Adams's novel, The Hitchhiker's Guide to the Galaxy. This wine was honored in Wine Enthusiast magazine's Best of 2019.
Brecon Estate 2017 Grenache – $47
This delightful wine starts with the classic strawberry and raspberry aromatics, but like all grenache, deep down, it has a serious side too. There is a richness in the mid-palate with a sweet fruit character even though technically dry. It's an unexpected intensity of flavor. It earned 90 points from Wine Enthusiast magazine.
Calcareous 2017 Tres Violet – $56
A terrific new world GSM, blend of grenache, syrah, and mourvedre. It's light, youthful, and flowery, as the name suggests. It earned 92 points from Wine Spectator.
Circle B 2017 Grenache – $34
This wine offers smooth red berries with a great nose and floral first sip followed by a balance of acidity and fruit. Bacon fat and cedar notes resonate throughout the wine. It earned a bronze medal at the Central Coast Wine Competition.
Grey Wolf Winery 2017 Soul Mate Red – $50

Grenache is the soul of this union with mourvèdre and syrah. This blend has concentrated aromas of raspberries, pomegranate molasses, and white chocolate covered cherries. Elegant, well-structured and balanced by floral and herbal notes of dried rose petals and purple basil. With soft, velvety tannins this wine will get richer as it ages. Drink now or over the next 5-7 years.
Lone Madrone 2015 Oveja Negra – $45
A delicious red Rhone-style blend made of 49% mourvedre, 22% grenache, 21% syrah, 8% counoise. Grown on the Old Oak Vineyard in the Willow Creek District
Lusso Della Terra 2017 Grenache – $25
This reserve grenache is perfumed with notes of bright red fruit intertwined with subtle white pepper. The palate explodes with raspberry, blueberry, and spice. It is rich, with refined tannins and a juicy finish. It's also a great value!
Michael Gill Cellars 2017 Counoise – $48
This fresh Rhone varietal has a bright ruby-garnet color, fruity aromas, and flavors of raspberry, huckleberry jam, honeyed fig, with a soft, dryish medium-full bodied slate finish with earthy, cottony tannins and no oak. It's a juicy, refreshing lighter-styled red with bright flavors and acidity. This wine earned a double gold medal at the Central Coast Wine Competition, among many other honors.
Midnight Cellars 2015 Grenache 'Moonbeam' – $49
This grenache displays beautiful layers of toasted sweet tobacco, blackberries, and currant on the nose. Rich and luscious flavors of fresh black fruit and dark chocolate burst on the palate with hints of clove and vanilla that complement the medium tannin finish.
Opolo 2017 Maestro – $34
A well-balanced red blend of 50% syrah, 25% counoise, 17% grenache, and 8% petite syrah. This wine jumps from the glass with fresh dark wild berries, fresh-cut herbs, and a hint of maple. Layered with cinnamon, cloves, and well-integrated tannins. It was made to drink now. Pair with a roasted beet salad topped with goat cheese.
Ranchero Cellars 2018 Grenache – $36 
This grapes for this wine were dry-farmed at Green Acres Vineyard in the Adelaida District AVA. This grenache from winemaker Amy Butler shows dense fruit with a deep ruby red color. Rhubarb, raspberry, and currant are bountiful on the nose, with a hint of brandied cherry.  A short stint in 20% new French oak provides an elegant backdrop for the fruit and accentuates the earthy complexity. The young grenache tannins are definitely present and grippy and they add to the delightful freshness of this wine.
Sea Shell Cellars 2016 Reserve Syrah – $40
This 100% syrah is filled with the varietals classic character, displaying hints of dark fruits, fresh-ground peppercorns. and savory bacon fat. The palate is long and elegant while maintaining freshness. It earned a gold medal at the Central Coast Wine Competition.
Seven Angels Cellars 2015 Chosen One – $38
A delicious new world GSM Rhone-style blend. It has a pleasant ruby color. It delivers aromas and flavors of raspberry and softwood with a hint of vanilla and oak. This wine earned a gold medal at the Central Coast Wine Competition
Seven Angels Cellars 2015 Syrah – $36
This wine has a dark hue of inky violet with notes of blueberry and spice on the nose. It's a big-bodied wine, as syrahs should be, with juicy fruit, smooth tannins and hints of vanilla and licorice. It will pair well with red meats and Italian food.
Tablas Creek 2016 Esprit de Tablas – $60
This is a blend of four estate-grown varietals grown from cuttings from the Château de Beaucastel estate in France. The wine is based on the dark red fruit, earth, spice and mid-palate richness of mourvèdre, with additions of grenache for forward fruit, approachability and lushness, syrah for mineral, aromatics, and back-palate tannins, and counoise for spice and acidity. It earned 94 points from Wine Spectator, among many other accolades.
Riverstar 2016 Eclipse – $34
A blend of syrah, zinfandel, and petite sirah. It's dark and rich In color with aromas and flavors of black cherry, blackberries, light vanilla, plum, and a hint of leather. Will pair wonderfully with turkey and all the fixinings.
Victor Hugo 2017 Syrah – $26
This wine starts with aromas of rose petals and ripe blueberries with subtle hints of oak. It has supple tannins with a hint of acidity followed by a rich finish. It will pair well with rack of lamb, pork loin, and an array of Mediterranean cuisine. It's a great value in this category.
Vina Robles 2016 Terra Bella Syrah – $58
This wine was made from grapes grown in the Terra Bella Vineyard, located in the Adelaida District AVA, with high altitude, sloping southwest-facing terrain, rocky limestone soils, and a long growing season with a marine influence from the Pacific Ocean, just 17 miles away. The fruit was hand-picked in the cool early hours and sorted before being crushed into small lots for fermentation, followed by aging in select tight grain French oak barrels. These attributes produced an age-worthy syrah that offers concentration without sacrificing balance or structure.
---
Best dessert wine recommendations
Bianchi Zinfandel 2015 P1 – $38
Bianchi's ruby zinfandel port is made from 100% zinfandel grapes fortified with brandy. This port is rich in raisin berry fruit, sugared dates and caramel orange peels perfectly accompaniment to chocolate or toasted walnuts. Bottled under Bianchi's reserve label at 19% alcohol in 500ml bottle.
Broken Earth Ragpickers Dream – $28
This is non-vintage, traditional Portuguese-style blend of Touriga Nacional, Tinta Cão and Tinta Roriz grapes from the Paso Robles AVA. It offers flavors of sweet, ripe berries and is balanced with a silky smooth finish. It's 19.7% alcohol and comes in 500ml bottle.
Bushong Sweet Illusions – $31

A triple cream sherry with flavors of brown sugar, caramel, gingerbread and pecan pie will coat your pallet and make you forget about dessert. It's 18.5% alcohol and comes in a 375ml bottle.
La Quinta Syrah Port – $16.50
This rich, sweet wine is made by San Antonio Winery. It's 100% syrah, dark red color, rich, and full-bodied. Enjoy this wine after dinner with dried fruits, nuts, and fine cheeses, like Stilton and sharp cheddar. It's fortified with brandy at 18.5% alcohol and comes in a 750ml bottle. It's a great value in this category.
Lusso Della Terra Chocolate Dessert Wine – $28
This sweet chocolate dessert wine explodes with aromas of ripe blackberries and black cherry. A smooth finish coats the palate with cocoa, black plums and raspberry. It's 18.5% alcohol and comes in a 375ml bottle.
Manucci Spirits Limoncello Originale – $40 
This is a handcrafted lemon-flavored brandy from a generations-old Italian recipe. It is an infusion of locally grown organic lemons, zested and steeped in our own distilled brandy. A shot of ice-cold limoncello is traditionally served as the perfect finish to a meal.
Opolo Vineyards Tryst – $33
A Port-style red wine, Tryst combines the grapes from Opolo's finest vineyards with their estate brandy for the perfect after-dinner experience. It is 18.5-percent alcohol and comes in a 375ml bottle.
Sculpterra Primitivo Dessert Wine – $32
This fruit-driven sweet wine displays aromas of ripe fig and caramel with chocolate undertones. It's a non-vintage blend with five years of harvests. This port-style wine has everything you look for in dessert wine. It's packed with aromas of ripe fig, rich chocolate, raspberry truffle, and toasted jam. This wine's bouquet displays caramel apple and nuts, with a tender sweet and balanced finish. The wine can be enjoyed now, but will further evolve over the next 8 to 15 years. It's sold in a 500ml bottle.
Vina Robles 2012 Segredo – $32
Segredo is a limited-production, fortified red dessert wine inspired by traditional ports. The "secret" is the use of petite sirah which lends itself to producing age-worthy wines with layers of richness. Aged for 20 months in French and American oak barrels, Segredo is the perfect dessert wine or can be enjoyed together with chocolate, cheese or nuts.
Vista Del Rey 2018 Barbera Dessert Wine – $25
Winemaker Dave King took a little barbera and made a dessert wine in a port style. The result is a superb and sticky dessert wine. It tastes like dark berries, dark chocolate, and spices. It is 19-percent alcohol and comes in a 375ml bottle.
---
Look for more wine recommendations
• Best local sparkling wines for the holidays
• Best local rosé wines for the holidays
• Best local white wines for the holidays
• Best local pinot noir wines for the holidays
• Best local zinfandel and Italian-style wines for the holidays
• Best Spanish-style wines in Paso Robles for the holidays
• Best local cabernet sauvignon wines for the holidays
• Best local Rhone-style red wines for the holidays
• Best local dessert wines for the holidays
---
Publisher's note: For the sixth year in a row we thought it would be a great idea to recommend local wines for upcoming holiday parties and dinners. Once again, we received an amazing amount of participation from our local wineries. Over the last few weeks, we received more than 100 entries. After tasting and tasting and tasting, there were many solid, well-made wines to recommend. We have created several lists of top local wines into categories. The recommended wines above are in alphabetical order.
comments