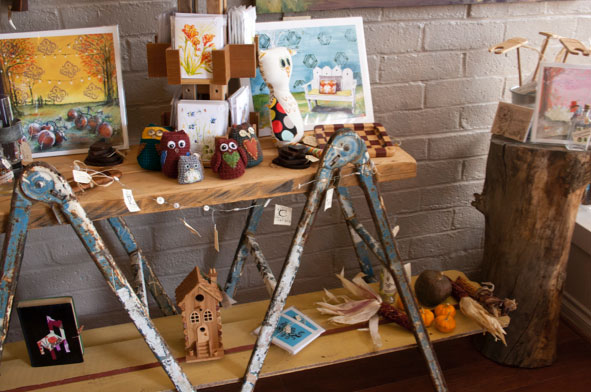 There's a new place to make and see art, Boyd & Bradley and Dudleya Studio Arts, two studios under one roof in Downtown Atascadero. The studios are hosting a grand opening Nov. 9 from 3 p.m. to 8 p.m.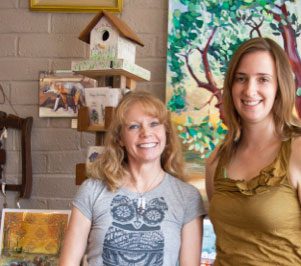 Artists and teachers Lauren Birkhahn and Tisha Smith schedule classes, workshops, private classes, art nights, and art parties. There are classes for learning and fun for all ages in drawing, painting, felting, and crafts.
Two classes in November, for example, include Fall Village Paintings for $20 each, and a 3 class series on painting a Sycamore Tree Landscape inspired by an early California artist, $55. There are also many classes for children. Call 440-9048 or 610-2489 for information. Check out all of what they're offering on their Facebook pages, sign up for email updates at www.dudleyastudio.com or visit.
At the studio you will also find gifts handcrafted locally by artists and makers in SLO County: Resin Jewelry, hardwood boxes, cast ocean finding jewelry, original paintings, handmade dolls, clothing, stuffed animals, cards, prints, wreathes and more.
Lauren Birkhahn Studied art at both Cuesta and Cal Poly, she had great instructors, and wants to pass on what she learned. Tisha Smith has been teaching art in schools in North County for the past 10 years and has seen the need to offer more art opportunities outside of the schools.
The studios are located downtown at 5820 Traffic Way, Atascadero, CA 93422.
Upcoming events
Nov. 9, 3-8pm, All are welcome to the Studios' Grand Opening Celebration, music from Luke Byron 6-8, 5820 Traffic Way Atascadero CA 93422.
Dec 6, 5:30-8:30, Enjoy the Sunken Garden Tree lighting Ceremony and visit the studio on the Art and Wine Tour.
Dec 13, 5-7, Dudleya Studio serves hot coco during the Winter Wonderland.
comments