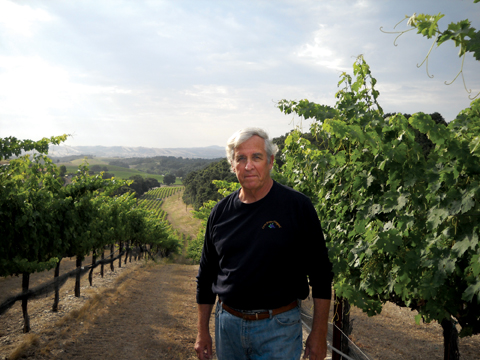 Larry and Teresa Stanton have found their niche in the hills of Westside Paso Robles.  Larry's daily routine includes inspecting the 20 acres of vineyards planted on the Cerro Prieto Vineyard and Cellars property, which they have farmed since 1984.  Larry is as at home in these vineyards as are the turkeys and hawks that inhabit what Larry calls his "limestone mountain."  The heart of Cerro Prieto can be found in Larry and Teresa's love of and connection to their land.
The Syrah, Cabernet Sauvignon, Pinot Noir, Merlot and Sauvignon Blanc vines that make up the Cerro Prieto Vineyard were carefully planted and readjusted through grafting so that the most suitable varietal is planted in each area.  Larry has designed his vineyard to take advantage of the many microclimates that he and Teresa have discovered during their years of work on their property.
Larry relocated from Southern California to the Central Coast over thirty years ago, after deciding to pursue his dream of farming while continuing with his medical career.  He and Teresa met while working in the medical field.  Now, with Cerro Prieto Vineyard and Cellars, Teresa says, they have "continued to work side by side like we did in the medical industry."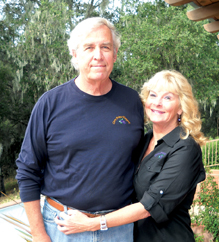 Initially, Larry and Teresa grew their grapes to sell to winemakers in the area.  Then Larry began to notice something happening each year in their vineyards: the plants on the edges of each plot would ripen first.  Due to the different conditions these grapes experienced on the fringes of the rows, pressed up against the oak forests, their ripening timetable was accelerated.  He began to harvest these grapes separately from those harvested by his grape buyers, and with the small lots of grapes started to make his own wine.
These grapes from the fringes of his vineyards were ripening in very stressed conditions.  For wine grapes, stress is a good thing.  Larry says that each year this part of his crop, these "ultra-stressed" grapes, were the best 5% he grew.  "My goal was to grow the perfect grape and by 2006 I had done it, and that is when I started making wine."  He credits the quality of the wines he makes to the vineyards, and to the grapes they produce.
Cerro Prieto grew out of Larry's desire to see what these grapes from the fringes of his vineyards could do if they were made into wine on their own instead of being blended in with the rest of the crop.  As a small winery, Cerro Prieto had the ability to process such small lots.  Each year Cerro Prieto produces around 350 cases of wine, all blends with the exception of their first wine, a Merlot.
Larry produces low-yield grapes, and gets about 1 ton per acre from the Cerro Prieto vines, and says that this translates into about 1 bottle of wine or less produced by each vine.  This approach seems to be working for Larry and Teresa.  Since producing their first vintage in 2006 they have received some exciting awards:
2006 Merlot: gold medal San Diego International Wine Competition and gold medal Critics Challenge International
2006 Paso Bordo: 92 points Wine Enthusiast
2007 Merlot: 91 points Wine Enthusiast
2007 Paso Bordo: gold medal and 91 points Los Angeles International Wine Competition
While Larry says that he produces his wines with wine aficionados and "real wine fans that like fine wine" in mind, he also thinks of food and food pairings as he makes his wines.  He says, "I enjoy sitting down to a nice meal and opening one of our really superb wines."
When Larry talks about his vineyards he shows his confidence in his vines and says, "This place can produce world-class wines."  Both he and Teresa express their gratitude at being able to live in such a beautiful spot with one another and do what they love.  Larry says of the Cerro Prieto estate, "This is a great place to grow old," and laughingly adds "But we haven't tried that yet."  With Larry's dream of the perfect wine shimmering in the vineyards, it looks as if Larry and Teresa will continue not growing old together for some time at their beautiful hilltop winery.
Tasting of Cerro Prieto wines is available by appointment.  Call (805) 226-8448 for information or visit www.cerroprietovineyard.com
— Kate Joyce
comments