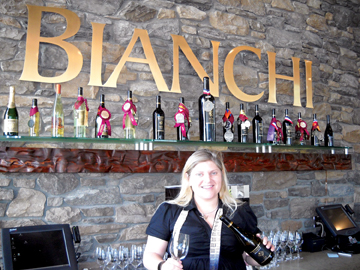 Bianchi Winery has been producing wine for over thirty years and through three generations and is now a thriving Paso Robles staple.  Winemaker Tom Lane brought his considerable experience to Bianchi in 2005.  Tom began his education in the fields of biology and botany, and then studied winemaking and Enology at the graduate level at U.C. Davis.  His career as a winemaker flourished and he was named Winemaker of the Year twice, once in 1996 by Jerry Mead and then again in 1997 by Dan Berger.  The combination of Bianchi's deep roots in Paso Robles and Tom's rich background in the wine industry has been a fruitful match.
Tom says that Bianchi's wines are varied, in that he strives to keep each wine true to its varietal characteristics.  This means that there is no set palate for Bianchi wines, but that each wine has its own distinct traits.  The Bianchi estate vineyards include Cabernet Sauvignon, Merlot, Syrah and Zinfandel, which Tom says thrive in the conditions of this Eastside Paso Robles property.  He describes Paso Robles as "an excellent growing region."
Tom also purchases grapes from other growers on the Central Coast, which allows him to work with grapes from different climates like Santa Barbara County and the Edna Valley.  Overall, Bianchi produces wines from 13 different varietals, both as blends and as single-varietal wines.  Bianchi wines can be found throughout the country, mostly in small wine shops and restaurants, as well as in the tasting room on the property.
The winery at Bianchi offers Tom many tools to use in his winemaking.  The tanks of fermented grapes can be monitored remotely, allowing Tom to adjust their temperature from his computer in his office or even at home.  The vineyards have soil-moisture monitoring devices that Tom can use to determine the state of Bianchi's vineyards.
The winery building was designed to facilitate the winemaking process, and Tom says "we do everything here."  This includes crushing the harvested grapes, fermenting the wine, aging it in barrel and bottling the finished product–and everything in between.  All of the grapes grown on the Bianchi estate are hand picked, and they cut a lot of fruit off during the growing season so that they get low-yield crops.
Tom caters the process for making each wine to that specific lot, and says that there is no set regiment for making wine at Bianchi, "We modify every step for each variety so that it accentuates what that variety should be."  He feels that the oak elements added by barrel aging in oak barrels should not overwhelm the innate qualities of the individual varietal.  With this in mind he selects oak from different cooperages and even different forests to compliment each wine he makes.  He says of this process, "I see barrels as spicing tools and want to match the spice."
Now, running under the direction of the third generation of Bianchis to produce wine, and with the expertise of Winemaker Tom Lane and access to great Central Coast fruit, Bianchi is thriving.  Visitors can expect a friendly reception and great wines at this asset to the Paso Robles wine-tasting experience.
Bianchi wines are available to taste at the Bianchi Tasting room at 3380 Branch Road in Paso Robles daily from 10am – 5pm.  Call (805) 226-9922 or visit www.bianchiwine.com for more information.
— Kate Joyce
comments