Slip into your kilt and down a pint of Guinness with dinner before you dance the night away
Pappy McGregor's is a lively gastropub and community favorite in the center of downtown Paso Robles, located along the town square, steps away from shopping, galleries, wine tasting and hotels.
Pappy McGregor's was formerly known as the Crooked Kilt, or for regulars, "The Kilt" and was opened in 2006 on St. Patrick's Day by cousins Donovan Schmit and Troy Larkin. The pub was lovingly named after the owner's grandfather Pappy McGregor to honor his name and dream of owning a pub. Guests can try their oysters on the half shell, fresh ahi egg rolls, or short rib stew. Order the baked chicken and dig into a steaming hot pot pie.
The cousins have been in the restaurant business for 18 years, and share a passion to create the perfect dining experience. Their story began in Cayucos at Schooner's Wharf, from 2001 – 2010 where they honed in on their craft, and dove into the business head on.The talented duo also run Fish Gaucho, and speakeasy 1122. Their restaurants boast rave reviews on Yelp and numerous local awards and recognition.
Schmit said, "Pappy's is a very family friendly pub. Our guests of all ages enjoy a fun lively atmosphere, high-quality food and drinks, with warm and welcoming service. Pappy's offers both indoor and outdoor dining with 2 separate patios."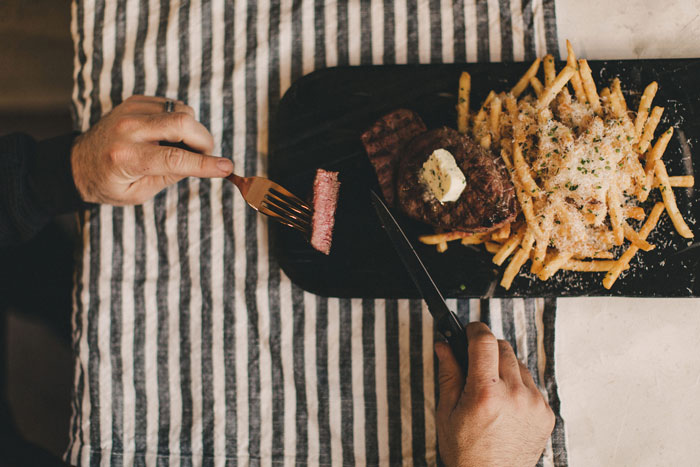 Pappy McGregor's is famous for winning the Local's Choice Award 11 times, and their dedication to serving delicious farm-to-table gastropub food continues to grow. Everything is made from scratch daily, you won't find simple frozen bar food here. Guests love to sip their tasty seasonal craft cocktails, as well as 20 local beers and wines.
Their menu of comfort food is available 7 days a week. During the week, visitors can enjoy happy hour Monday through Friday 3 – 6 p.m. and pub trivia, live music, and late night dancing Fridays and Saturdays at 10 p.m. The outdoor patios are dogs friendly, and the dance floor is the perfect place to let it loose after a long workweek. Sports lovers rejoice, the six large high definition tv's show NFL games every day.
It also holds a secret- a 1930s style speakeasy known as 1122 which is famous for serving up the finest, upscale craft cocktails with a smirk. It has a hidden entry, and very limited seating, which gives it an intimate and elegant feel. It recently got a shoutout in a list of the top 50 Hidden Bars & Speakeasies in the World. From 5 p.m. to 2 a.m. guests can enter the dark industrial building behind Pappy McGregor's by ringing the doorbell attached to a lightbulb.
Executive chef Martin Beckett takes pride in creating his menu of award-winning dishes such as their calamari, pretzel fondue, and fried pickles. Dig into their Thai sticky chicken wings, or a savory chopped chicken salad. Pappy McGregor's prime rib chili and french onion soups are a town favorite and each plate comes out hot and fresh.
Pappy McGregor's fully stocked bar is lined with high-end whiskeys, scotches mezcals, as well as local craft beers and wines. The ever-changing cocktail menu rotates quarterly and usually features crowd favorites like mojito's, Tiki drinks, slushies, and their award-winning bloody Marys. Sip on a cold refreshing margarita or a crowd favorite old-fashioned. It's always a good and lively time at Pappy McGregor's.
If you're looking for a little nightlife in Paso Robles, Pappy McGregor's is known to host great local DJ's, and it is one of the only places in North County to find a nightclub. The carefree atmosphere encourages thorough enjoyment of your evening with conversation and is reminiscent of a time long since past. No dress code required, but plaid encouraged!
"Downtown Paso Robles has changed so much since we started in '06. We have seen the downtown square become the center of the North County, where world-class wineries, clothing shops, and other fantastic restaurants surround us. We like to think we had a little part in changing the downtown atmosphere and experience," said Schmit.
Pappy McGregor's is located at 1122 Pine St in Paso Robles, open Monday-Friday 11a.m. -2 a.m., Saturday/Sunday 10 a.m.-2 a.m. Speakeasy 1122 Hours: Closed Mondays, open Tue-Thurs, and Sundays 7 p.m.-12 a.m. and Friday/Saturdays 5 p.m.-2 a.m. For more information, visit www.PappyMcGregors.com or call (805)238-7070.
– Cassandra Frey
comments