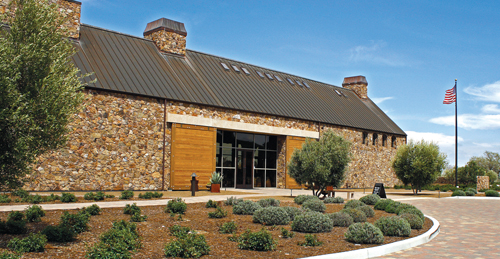 As you drive along Highway 46 on the west side of Paso Robles you can't miss the impressive stone buildings of Niner Wine Estates. Adjacent to them is a group of old oaks that rest in the depression between two hillsides, forming the shape of a heart. This is the vineyard known as Heart Hill and it was something to do with the heart that begins our story of Niner Wine Estates.
Dick Niner and his wife Pam developed a passion for wine and fell in love with the wine area of Paso Robles. Dick had spent many years investing in a variety of businesses throughout the United States and it was a business deal that led him to the Central Coast of California. Having grown up on a farm in West Virginia, he held in his heart a love for the land and rural lifestyle. So it was that all of these things brought him one day to investigate some acreage for sale on the east side of Paso Robles. Pam Niner says, "Look what happened. I left him alone for the weekend and he ended up buying a vineyard."
This vineyard that Niner purchased is known as Bootjack Ranch and contained 54 acres planted to seven varietals. This became the foundation vineyard for the winery. While Niner searched for a full-time winemaker he was fortunate to have the services of Chuck Ortman and the first vintage was produced in 2003.
Amanda Cramer, originally from New Hampshire, took a circuitous route to winemaking, first becoming a high school math teacher in Washington, D.C. But her passion for wine ultimately brought her to UC Davis to study enology and viticulture. "I was still a student when I got some experience as an intern in the cellar of Far Niente Winery," she said. Cramer graduated and spent three years working at a variety of wineries in three of the world's most recognized wine regions: Napa Valley, South Australia, and Chile. She then took a post as Assistant Winemaker at Paradigm Winery in Oakville, California. In 2004, after meeting Dick Niner, she became the winemaker at Niner Estates. "I think it was a serendipitous thing," she commented, "since we are both from the East Coast, we just hit it off."
Cramer's new position was timed just right and she was instrumental in the planning for the new winery facility and the planting of the vineyards.  She is one of few female winemakers in the industry. "It's kind of like the culinary industry," she said, "where there are not as many women chefs as there are men." But those things are changing. Cramer now oversees the entire winemaking process at Niner. This entails picking out varieties and root stock,time in the vineyards, as well as in the lab and the production facility. Includes time in the vineyards, winery, and even the Tasting Room.  "I make sure I am there for every CLUB 9 pick up party," says Cramer.
Niner had also purchased the Heart Hill property where 46 acres are now planted to Rhone and Bordeaux varieties. It was here that Dick and Pam Niner intended to have their tasting room and production winery.
These facilities were constructed with the best environmental capabilities in mind. In so doing Niner has received LEED (Leadership in Energy and Environmental Design) Silver certification and is the first winery on the Central Coast to do so. This certification is based on performance in areas of energy efficiency, sustainable site development, water efficiency, materials selection, and indoor environment quality.
Gravity flow winemakingfruit delivery, night air cooling, strategic selection of windows and overhangs, and high efficiency lighting has resulted in a 15% savings of energy costs. Thirty-five percent of the electricity for the winery and hospitality center is purchased from renewable sources, such as wind and solar. More than 80% of the construction waste was recycled and 15% of the building materials were from recycled content. All indoor materials were chosen for the best indoor environmental quality. Landscaped areas are planted with native or adaptive species and water used to irrigate is from rain capture or recycled water. And these are just a few of the things that make Niner an industry environmental leader.
The beautiful stone barn Hospitality Center houses the tasting room, offices, the Club 9 members-only lounge, and a world class demonstration kitchen where visiting chefs prepare culinary delights for events as well as holding cooking classes and seminars.
Across from the outside patio area is the Demonstration Winery where it is possible for the publictoget hands-on experience making small lots of wine and for Niner to hold educational seminars for area wineries as well to hostintimate events.
The Production Winery was built over the hill and is a state of the art winemaking facility. "We harvest at night," Cramer said, "so the fruit arrives at the winery cold in the early hours." Niner pickers never have to work in the heat of day and the production staff doesn't have to wait for the fruit. Picking Sorting is done in three stages; first leaving the "uglies" behind, second doing cluster-sorting and someprior to destemming, and third doing a berry sort. Fruit is dropped onto a conveyor belt that takes it to the crusher. Ultimately the juice is fed into tanks, all gravity fedwithout a pump.  Aged in oak barrels for 12 to 18 months, Niner produces 10,000 cases of wine a year. Wines are made ready to drink upon release and they age well in the bottle. Bordeaux, Rhone and Italian varietals are produced with "Fog Catcher," a Bordeaux blend, being their flagship wine.
Niner Wine Estates is located at 2400 Highway 46 West in Paso Robles. Tasting room hours are daily from 10:00am-5:00 pm. For more information, visit their website ninerwine.com or call (805) 239-2233. They can also be found on Facebook and Twitter.
— Ruth Ann Angus
Subscribe to weekly travel news
comments