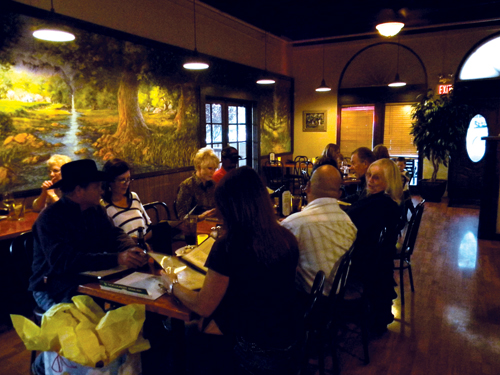 The story of Guest House Grill
Five years ago, Eric Peterson and Trevor LaSalle started the Guest House Grill thanks to a senior project idea while at Cal Poly. Peterson explains, "We were talking about what we wanted to do for a senior project and we decided to open our own restaurant— we were both business majors and came up with a plan to start a local restaurant." At the time, they both worked at nearby AJ Spurs and decided to set up shop in Atascadero, a city with much need for a solid American Cuisine establishment complete with a great outdoor patio and a full bar. It seemed fitting for two young men from the North County.
Together, the two literally built the place from the ground up. They built the tables themselves and with the help of artist Hugh Sladen, had beautiful scenic murals painted on the walls.
All of the steaks served at the restaurant are sourced from Double R Ranch in Washington State, an outfit that operates under the four principles of – Sustainability, Total Quality, Animal Well-Being and Responsibility. The meat is choice beef and is definitely a house specialty especially the Pan Seared Filet Mignon with a red wine reduction. The burgers are all made with grass-fed Hearst Ranch Beef. Hearst Ranch is dedicated to sustainability and excellence and in their company literature express, "Our cattle live a completely natural existence as foragers and grazers. Grazing enhances a complex and balanced mosaic of native grasslands, which in turn maintains the vigor and distribution of these habitats, ensuring a sustainable food system."
Home-style dishes like meatloaf, coriander crusted chicken, and chicken fried steak are raved about among locals. As Peterson describes, "We designed the menu to have something for everybody. Steak, seafood, pasta as well as burgers and salads."
Their wine list boasts all local wines with seven different wines by the glass. There is a small bar with an eclectic cocktail list and happy hour everyday from 3pm-5pm. Monday, Tuesday and Sunday nights the Grill serves up nightly specials and live music on Friday and Saturday nights. The Grill is also open everyday for lunch and open for breakfast on Sundays.
The restaurant caters to both travelers and locals alike. For travelers staying in the Atascadero area, it is a great option after a day of wine tasting or touring the county. For locals, the inviting, warm dining room is a cozy spot for a great meal with friends and family.
Peterson enjoys running a spot in his hometown, "I feel like we're a local place. We have tons of regulars and familiar faces. I see old teachers, friends, and community members. When people come in here, a lot of them know each other. It's really fun. I enjoy working at night and seeing people recognize each other."
With so many options for food, drinks and entertainment, the restaurant is a welcome addition to Atascadero.
Guest House Grill is located at 8783 El Camino Real, Atascadero, (805) 460-0193. They are open 7 days a week 11:00 a.m. – 8:30 p.m.
— Brandi Stansbury
Subscribe to weekly travel news
comments