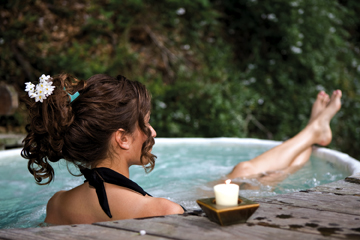 A trip to Sycamore Mineral Springs Resort can lighten the soul, rejuvenate the skin, and melt stress like lavender scented wax. Guests leave feeling younger and refreshed
"This resort is really about wellness and relaxation," said Marina Huston, a manager at the resort. "It lets you experience nature in a comfortable environment."
Naturally occurring hot springs feed private tubs in each of the hotel's 72 rooms. Water is heated deep in the Earth's crust by fiery magma, causing it to rise through layers of rock and soil, soaking up minerals such as sulfur, which your skin needs to produce collagen for elasticity.  The resort then captures the water and pipes it into tubs that sit on outdoor patios, giving hotel guests the opportunity to soak leisurely amidst the greenery and chirping of birds.
There are also public tubs available that can be rented by the hour for $12.50 on weekdays and $17.50 on weekends. They're open from 8:00 a.m. to midnight, and they make for a great date. Larger parties can rent "The Oasis," a 30-person tub that's filled via cascading waterfalls.
"Mineral springs have a lot of health benefits," said Huston. "The heat can ease muscle pain, and the sulfur can help relieve the symptoms of skin conditions like eczema."
Services at Sycamore Mineral Springs Resort don't stop there. Let massage therapists rub your aches away with a variety of packages and oils. They provide hot stone treatments, deep tissue massages, and even full body, pre-natal rub downs that focus on wait bearing joints and ease the burden of child bearing. Prices range from $65 to $150, and every massage includes a complimentary 30-minute soak in one of the mineral tubs.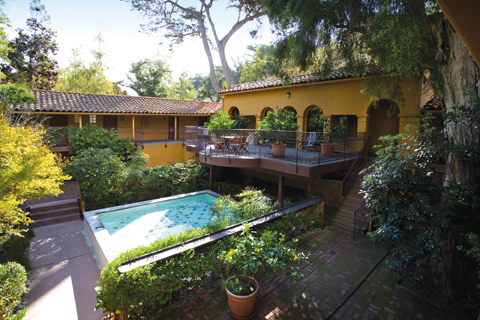 The spa also offers full service facial treatments, skin rejuvenation peels, and hand and foot treatments. After an hour in the hands of these estheticians and their botanical, mineral-rich concoctions, your skin will feel softer, look brighter, and have fewer wrinkles. It's one thing to feel younger and less stressed on the inside, but these treatments step it up a notch by bringing those improvements to the surface, letting you look as young as you feel.
"We offer all kinds of unique packages and combinations of services so that there can be something for everyone," said Huston.
The experience is greatly enhanced by the beautiful, 100-acre environment that's lush with plant life. Guests are greeted by an awe inpiring Chinese Empress Tree that stands before the hotel lobby and boasts thousands of pink flower buds. Ancient sycamores dot the grounds, their twisting trunks providing cool shade and aesthetic stimulation, and an array of native shrubs and flowers fill the air with fresh oxygen and soothing aromas. Signs occasionally remind guests that they are entering quiet areas, where cell phones and smoking are prohibited and everyone can enjoy the peaceful sounds of nature.
"The best part of working here is being able to walk the grounds every day," said Huston. "It's such a wonderful micro-climate: the beach air surrounded by green hills. And we hardly ever get any fog."
Walking is an important part of the Sycamore Mineral Springs experience. There are meditation gardens perfect for lingering strolls and even a labyrinth in which to lose yourself. It's made from meticulously placed stones and designed in the shape of a circular maze. Guests are encouraged to walk the path slowly, letting their minds wonder through past memories and future dreams.
The property is also adjacent to two popular trails: the Bob Jones Bike Path and the Sycamore Crest Trail. The bike path is paved and leads from San Luis Obispo to the sandy shores of Avila Beach. For a more traditional hike and stunning views, take the Sycamore Crest Trail to a summit that overlooks Avila Beach and Port San Luis Obispo. Native plant and wild life add to the beauty of this intermediate level hike that stretches two miles roundtrip.
Of course, you don't have to walk anywhere. Chauffeurs are always on-call with golf carts to carry you and your luggage to any part of the property.
Another perk is the assortment of mind and body classes offered in the "Yoga Dome," a round structure reminiscent of a temple that hosts daily Pilates, Tai Chi and Yoga classes. All classes cost $15 for the public and are complimentary for hotel guests. Instructors will help you strengthen your body and increase flexibility, all while quieting the mind and leaving you feeling centered and balanced.
Friendly service is a high priority at the resort. "Everyone here wants to give visitors the best experience we can and to see them leave happy," said Huston.
Front desk clerks are trained in a hospitality program that dispenses detailed information on local activities and attractions, and the age-old motto of "the customer is always right" is drilled into their heads until prompt, quality service is second nature.
Room rates vary throughout the year but are surprisingly affordable, especially considering the many benefits that set this place apart. All rooms include the balcony hot tub, a coffee maker, mini-fridge, and free Internet. A standard room in the offseason starts at $129 a night, and there are many different room types. Choose from a variety of romantic suites complete with fireplaces and four-poster beds. Some have separate living rooms, and there's even a guesthouse with three bedrooms, two patios, and a full kitchen.
Check out the West Meadow Suites for extra seclusion. These bungalow style rooms are only accessible via a bridge that spans Avila Beach Drive and a scenic creek. The buildings are well shaded by foliage and raised about six feet off the ground on posts, giving the impression that you're staying in an elegant tree house. The stream's gentle gurgling adds to the tranquility.
Should your belly gurgle, room service is available from the Gardens of Avila Restaurant and Bar. Executive Chef Pandee Pearson uses extensive culinary training and love for fresh ingredients to create a menu of delicious, healthy food that highlights local produce of the central coast. The offerings change with the seasons to ensure that guests are eating the freshest, ripest food possible.
Dishes, such as the Pan Seared Salmon and the Green Goddess – a salad with sautéed shrimp and mango chutney – are designed to go well with locally crafted fine wines. The dining room is dark green and elegant, setting the tone for romance. For a special occasion, like an anniversary or engagement, ask for table 100, which sits on a private balcony above the other patrons.
Stop by the bar for Happy Hour from 5:30 to 7:00 p.m. and mingle with other guests over discounted drinks and appetizers.
If you'd like more information about the Sycamore Mineral Springs Resort call (800)-234-5831 or visit them online at www.sycamoresprings.com.    The resort is located between San Luis Obispo and Avila Beach, at 1215 Avila Beach Drive.
"You can do anything or nothing here," said Huston. "We're secluded enough that you can sit around in a robe all day without leaving, but we're also close to everything the central coast has to offer."
—By Nick Powell
comments