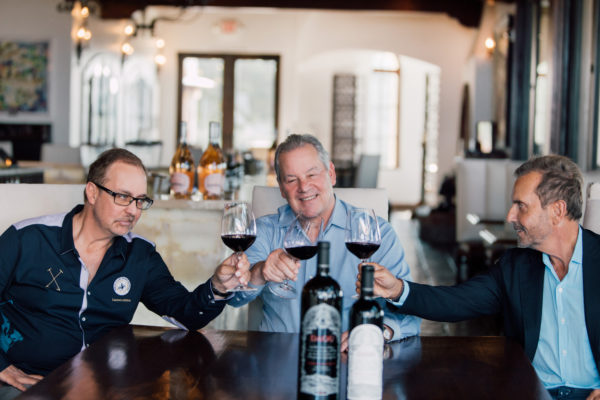 –Daou Vineyards & Winery announces that Master Sommelier Frederick L. Dame is joining the family-owned company as Global Wine Ambassador. Dame will work with founders Georges Daou and Daniel Daou to continue transforming the Adelaida District of Paso Robles into the global wine industry's next frontier for producing the finest Bordeaux varieties while enhancing awareness of Daou's spectrum of exceptional wines.
Founded on the premise that great wine should be accessible and shared with the world, Daou Mountain is home to some of the most sought-after wines that receive the highest ratings possible from all major critics. What was once a lone, undiscovered mountain in the Adelaida District of Paso Robles is now a breathtaking estate built on Georges and Daniel's eternal commitment to their people, their wine and the beautiful environment that continues to make their dream a reality.
The addition of Dame will further the brother's undying commitment to Daou Mountain and the region itself.
Dame, the first American to serve as President of the Court of Master Sommeliers Worldwide and to complete the Master Sommelier Examination in one year, is one of the wine and restaurant industry's most acclaimed advisors. His decision to join Daou, an award-winning winery established on Daou Mountain in 2007, was driven by the opportunity to help blaze a trail in an emerging wine region with a distinctive terroir, a vineyard land and a family-focused approach.
"I couldn't think of a better final chapter of my career than the opportunity to work alongside the Daou brothers," said Fred. "Georges and Daniel have a passionate commitment to excellence that sets them apart and it has been demonstrated year over year with the purity and ascent of their wines – from Estate to Reserves. When you combine the Daou brothers' extraordinary vision and culture with the ideal conditions and developing the potential of the Mountain, you can imagine my delight in becoming part of this extraordinary winery and its quest to produce the ultimate wines in terms of grace, structure and complexity."
Dame is the founder of the American Branch of the Court of Master Sommeliers and the former Vice President of Prestige Accounts for American Wine & Spirits of California. A graduate of Washington & Lee University, he is widely recognized as an educator and storyteller, and holds honorary professorships at Purdue University and The University of South Carolina. Additionally, Dame is an inductee of the American Academy of Chefs Hall of Fame, is an active member of the Confrerie de la Chaine des Rotisseurs and is Chairman of the Board of GuildSomm.com.
A sixth-generation Californian, Dame's interest in fine wine was ignited during a high school trip to Europe. He has been pursuing his passion ever since. One of only 250 individuals worldwide to have passed the Master Sommelier Examination, he won the coveted Krug Cup of the British Guild of Sommeliers in 1984.
"Wine is a story, not a product," Georges said. "And with the addition of Fred, the Daou dream will be shared and celebrated within the industry and beyond. As a world-renowned teacher and master sommelier, we are fortunate Fred chose our collaborative community as his swansong. Since the beginning, our desire has been to create high-end wines that open doors to opportunity, and we are both humbled and thrilled for Fred to join our team and continue sharing the DAOU experience."
Born in Lebanon, Georges and Daniel Daou were forced to flee with their family to France at the start of the Lebanese Civil War. There, they developed a love for the vineyards that recalled their grandfather's ancient olive groves. As college students, they emigrated to California to study engineering at the University of California San Diego, and, after successful careers in the tech industry, eventually returned to their passion: wine and its elements. Captivated by the Adelaida District's unrivalled growing conditions for producing Cabernet Sauvignon, the brothers discovered what is now Daou Mountain, or otherwise heralded as the "jewel of ecological elements" by Father of American Winemaking Andre Tchelistcheff. 14 miles from the ocean at 2,200 feet above sea level, Daou Mountain is home to an unparalleled terroir built on a family legacy and an extreme passion for ever-evolving quality.
"From the beginning, it has been our goal to express the passion we have for our terroir through the wines we craft," Daniel said. "This passion continues today and will be communicated even further with the addition of Fred Dame to our team."
For more information on the brothers, the wines and the Daou mountain, visit www.daouvineyards.com.
comments