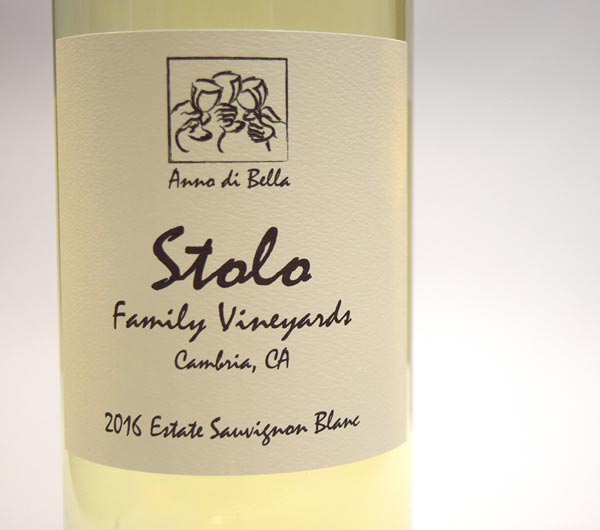 Stolo Family Vineyards of Cambria, Calif., introduces three wines celebrating the spring season:
2016 Gewürztraminer
2016 Sauvignon Blanc
2016 Rosé of Pinot Noir
Winemaker Nicole Pope says the wines are a representation of vineyards' unique terroir, and are the perfect example of the quality this region is capable of producing.
"Being the only ones out here growing, we have always seen our vineyard's location as more of an opportunity than a challenge," says Maria Bennetti, partner and general manager of Stolo Family Vineyards. "We are proof that this area produces fantastic wines that capture the essence of the California coast. We are thrilled with these current releases and can't wait to share them with our friends and followers," Bennetti added.
The estate vineyard is located just East of Cambria in Northern San Luis Obispo County and is the only estate commercial vineyard in the North County. The vineyard, located just three miles from the Pacific Ocean, makes it one of the closest vineyards to the coast in all of California. The cooling ocean breezes create a longer growing season allowing the grapes to ripen to their full potential, producing small berries with thick skins. The maritime breezes combined with unique coastal soil known as Los Osos-Diablo create the perfect conditions for the cool climate wines.
The new releases include:
The 2016 Gewürztraminer (dry) is the perfect warm-weather wine, expressed with a nose of crisp white peach, jasmine, lemongrass and rose petal. The delicate body holds flavors of lively fruit and floral notes with an undertone of grapefruit and a hint of cream. It retails for $25.00.
The 2016 Sauvignon Blanc is delicate and aromatic, ripe with notes of lime zest, nectarine, orange peel and fresh herbs. Flavors of tangerine, fresh thyme and lemon peel burst onto the palate and finish with a clean minerality. It retails for $25.00.
The 2016 Rosé of Pinot Noir is ripe with crisp flavors of nectarine, wild strawberry and apricot, which are preceded by a soft, floral aroma. Elegantly framed by bright acidity, this Rosé is the perfect addition to a spring picnic or early summer barbecue. It retails for $25.00.
About Stolo Family Vineyards
Stolo Family Vineyards, established in 2004, is dedicated to producing small-lot, premium wines. Stolo Family Vineyards places an emphasis on cool climate estate wines—particularly Pinot Noir—and has the only vineyard growing Gewürztraminer in the area. As the only estate winery and vineyard in Cambria, visitors are welcomed to the boutique tasting room, where award-winning wines can be enjoyed in a rustic, friendly atmosphere.
Stolo Family Vineyards is located at 3776 Santa Rosa Creek Road in Cambria, California, 93428. (805) 924-3131.
comments