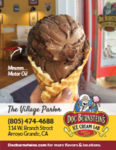 114 West Branch Street, Arroyo Grande, CA 93420, USA
Handcrafted, super-premium ice cream served in a nostalgic parlor. Come see Doc's NEW Lab Show Ex...
22719 El Camino Real, Santa Margarita, CA 93453
Margarita Adventures is the ultimate blast for the entire family! Here in the heart of San Luis O...