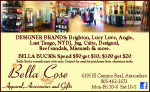 6195 El Camino Real Atascadero CA 93422
The boutique that will keep you and your friends coming back for more. Not only are the prices great but the customer service can't be beat. They carry a wide variety of clothes.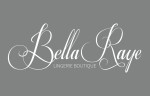 561 12th Street, Paso Robles, CA 93446, USA
Bella Raye's online lingerie boutique will be opening soon! Selling sexy, comfortable, stylish, and properly fitting bras and panties, lingerie, sleep sets, and bridal items! Come visit the shop at 565 12th Street, Paso Robles.