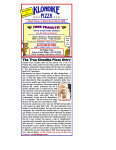 104 Bridge St Arroyo Grande CA 93421
Located in the basement of the building, the floor is dirt and covered with discarded peanut shells. Quality pizza takes time and the average wait for orders is 20 minutes, but it's worth the wait. Open Mon. to Fri. 11 am-9 pm and Sat & Sun. till 10 pm 104 Bridge St.
Marv's Original Pizza Co. dishes out the Central Coast's finest pizza in a casual, fun-filled atmosphere. Delicious food, delightful ambiance and just a little daring (Slivered almonds on a pizza? We say "Yes!") make us the best bistro for feasting in Paso Robles. Our pizzas are made with only th...