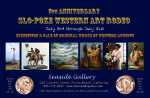 580 Cypress St Ste N-f Pismo Beach CA 93449
Always changing and affordable original paintings, sculpture and gicleé art by local and globallyacclaimed artists presented for sale in a warm and friendly atmosphere. Fine art in the heart of Pismo Beach. Daily 10 am-5 pm, Sunday 11 am-5 pm 580 Cypress Street, Pismo Beach,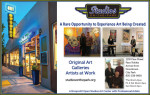 PO Box3000, Paso Robles, CA 93446, USA
Welcome to Studios on the Park, a nonprofit open studios art center in the heart of historic downtown Paso Robles! We have six studios with 14 working artists, five galleries and a fine craft gift shop. Make art a part of your life by witnessing the creative process in action, enrolling in a clas...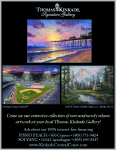 500 Cypress S-5 Pismo Beach CA 93449
A showcase of Thomas Kinkade's famous works both new and classic. Ask to see his lesser known pieces as well. Experience the many beautiful styles of Kinkade's artwork. 500 Cypress St., Pismo Beach. (805) 773-9424. Read story at https://www.slovisitorsguide.com/nipomo/come-see-luffas-growing-on-th...