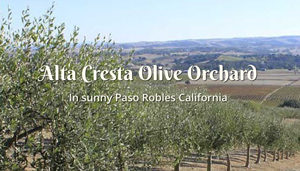 6075 High Ridge Rd, Paso Robles, CA 93446, USA
Alta Cresta Orchard Olive Oil Tasting
Sample gold-medal, estate-grown extra virgin olive oils in Alta Cresta's tasting room located at their scenic orchard approximately 7 miles east of Paso Robles off Creston Road. Open Saturdays & Sundays 11 a.m. to 4 p.m. or by appointment.
Alta Cresta Olive Oil produces award-winning extra virgin olive oil from olives grown in our estate olive orchard. Located on the warm sunny East side of Paso Robles California, we grow four Italian varietal olives that produce olive oils that are very aromatic, rich and flavorful, and have a peppery finish. All of our oils are Certified "extra virgin" by the California Olive Oil Council.
The olives are hand-picked in mid-November and pressed within hours. The result is premium extra virgin olive oil with high polyphenol levels (antioxidants) and exceptionally low free acidity and peroxide levels.