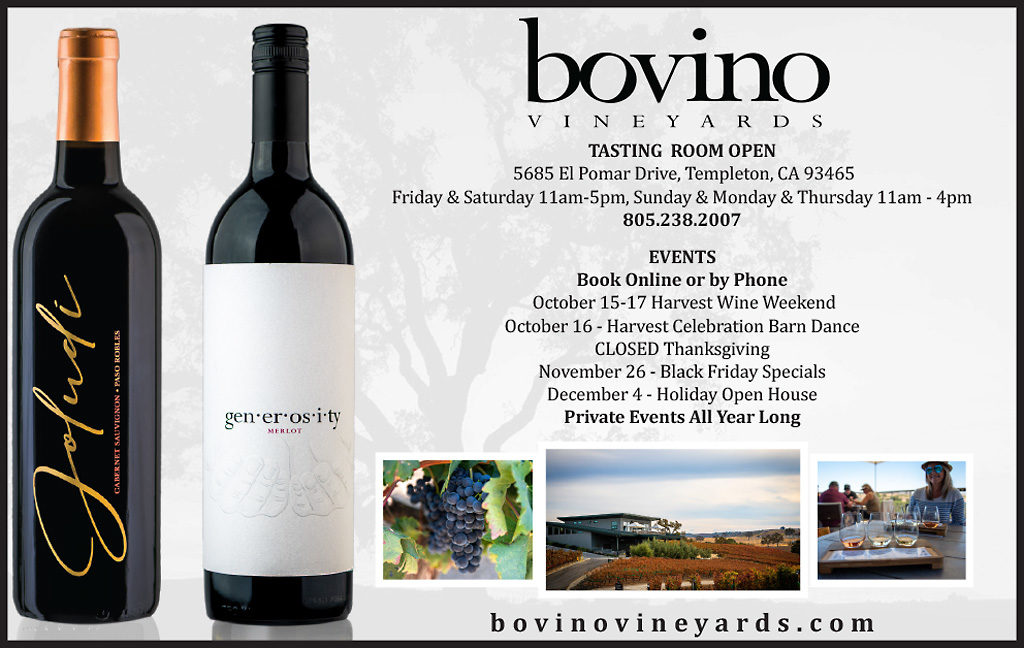 5685 El Pomar Drive, Templeton, CA 93465, USA
5685 El Pomar Drive
Templeton
California
93465
US
Bovino Vineyards and Winery is located in beautiful Templeton, California.  Our estate vineyards are centrally situated in the Templeton Gap which is nestled between the Paso Robles Willow Creek and the El Pomar Districts.  The Templeton Gap consists of a series of mountain passes created by rivers and creeks in the Santa Lucia Range, through which marine air flows into the region.
The Templeton Gap is the coolest climate of the Paso Robles sub-appellations and receives approximately 20 inches of precipitation per year.  The water gap allows marine influences to enter the region which moderate the daily temperatures and increase the amount of time that it takes for grapes to ripen.  The elevations in the area range from 700 to 1,800 feet above sea level with the majority of the wineries located between 800 and 940 feet.
The soils were created by alluvium of the Monterey Formation and are largely made up of silty and clay loams. There are some older soils produced from the Paso Robles Formation that are more cemented and shaly.  Grapes produced in this region include Cabernet Sauvignon, Carignane, Charbono, Chardonnay, Grenache, Merlot, Petite Sirah, Pinot Gris, Pinot Noir, Primitivo, Sangiovese, Syrah, Tempranillo, Viognier and Zinfandel.