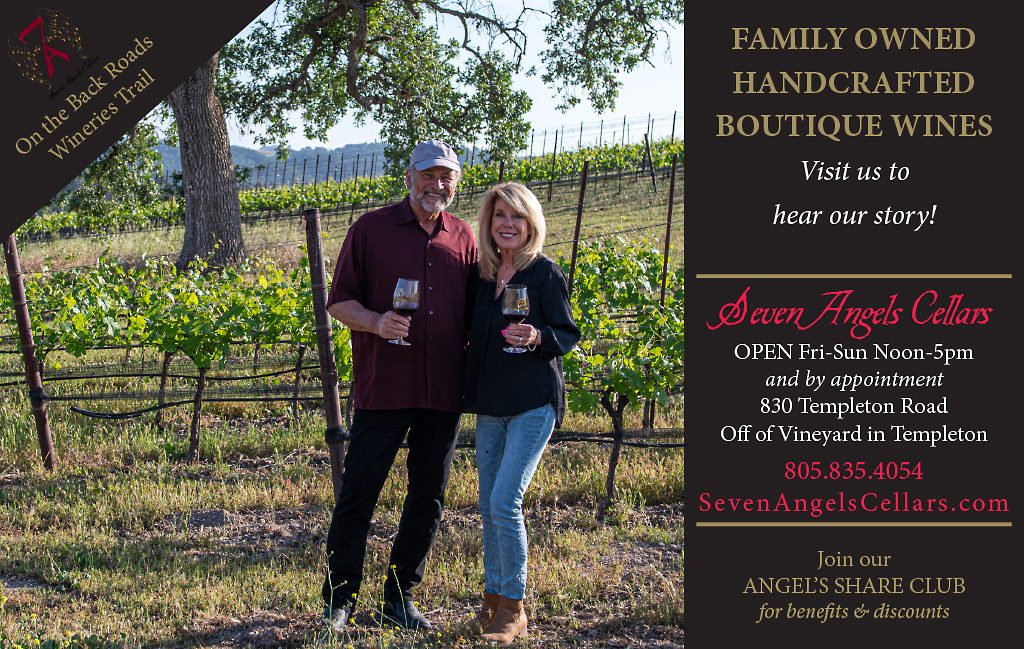 830 Templeton Road, Templeton, CA 93465, USA
830 Templeton Road
Templeton
California
93465
US
Tasting Room Hours: Friday, Saturday & Sunday  12:00 pm – 5:00 pm
Seven Angels Cellars is a family owned, boutique winery located in Templeton, CA.  We began making wine in 2009 with a small production of Petite Sirah.  Since then we have increased production to around 3000 cases per year.  Greg Martin is the owner/winemaker and Pamela Martin is the other owner and handles social media, food pairings, wine club and club events and the website.  The story behind the name came from our passion for family.  We have seven children in our blended family, our 7 angels.
We both grew up loving wine.  Greg grew up in a rural area of California with neighbors who grew wine grapes.  He spent a lot of time learning about the entire process from the vine to the bottle from his patient neighbor.  He continued his interest in wine as a US Coast Guard when he was stationed in the bay area and had easy access to the multitude of wineries in Sonoma and Napa.  Pamela comes from a family of foodies and wine enthusiasts.  She took courses in college in winemaking and learned the biology aspect of wine.  She worked in catering and on TV as a home economist for a cooking show.  Pairing food and wine to create an interesting and delightful balance in a meal has become an obsession for her.
We married in 2008 and started making wine the following year.  We specialize in Rhone blends as well as single varietals.  Greg has his eyes, hands in every aspect of the process from the field to the bottle.  Pamela has the palate and the nose and is instrumental in the blending.
We participate in many non-profit and charity events as our way of giving back.  We are involved with Precious Life Shelter in Los Alamitos, a shelter for homeless pregnant women and Goals for Life, and NFL program for troubled youth.  We are the official wine sponsor for the Congressional Cup held annually at the Long Beach Yacht Club.  We also sponsor the Wooden Boat Festival in Newport Beach each year.
Many of our wines have been recognized by Wine Enthusiast with ratings in the 90's.  We've also received numerous gold medals at California and International wine competitions.  This year we were awarded a gold medal from the mid-state fair for our 2015 Pinot Noir and a gold medal from the Orange County Wine Competition for our 2015 Tempranillo.
We believe in the "less is best" approach to winemaking.  Less manipulation and more natural methods of making our wine.  Greg likes to play with using different kinds of oak in our barrel program.  Our wines are food friendly, approachable in both flavor and price point.  We'd love to share with you more about our methodology, including, why we keep our price point where it is and how we see Seven Angels integrated on an evolved, noteworthy, wine list.