Steve Schmidt Topsoil, Inc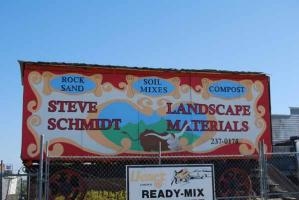 1990 Ramada Dr, Paso Robles, CA 93446
For over fifty years, Steve Schmidt Topsoil has been providing Tri-County residents with quality landscaping and paving materials. With varied products such as sod, ground cover, u-haul concrete, pond supplies, and decorative rock; they carry everything the do-it-yourself homeowner needs to beautify their yard or garden. Competitive prices and locally quarried rock make Steve Schmidt Topsoil a favorite with individuals and landscape companies.
About:
In 1914 A.E. Schmidt started a materials hauling service in the burgeoning San Fernando Valley. What started as mules and wagons grew into dump trucks and tractors. Nearly 80 years later his grandson, steve, and wife, Nancy, left southern California for Paso Robles. In tradition of Steve's grandfather, Steve and Nancy started Steve Schmidt Topsoil. After 10 years as an employee, Ron and his wide took over and have been running the business ever since.
Ron: Ron has worked in the construction business since 1979. He is the proud father of six children and three giggly grandchildren. When he's not driving the truck at work, you may see Ron astride a Harley Davidson motorcycle or running around the back roads of Atascadero.
Linda: Linda's will likely be the first face you see at Steve Schmidt Topsoil, where she has worked for over 10 years. After hours, Linda worked as a personal trainer at Kennedy Club Fitness in Atascadero. She is a proud mother of six and grandmother to three adorable children.
Offers:
Free local delivery for all orders of 5 or more yards of material.
Services Offered:
garden supply center
planter mix
topsoil
free local delivery
u-cart concretes
bark
gravel
sand
Rock
stone
sod
pond supply
fertilizer
brick
Payment Accepted:
Cash
Check
Visa
MasterCard
Discover
American Express
Parking Situation: